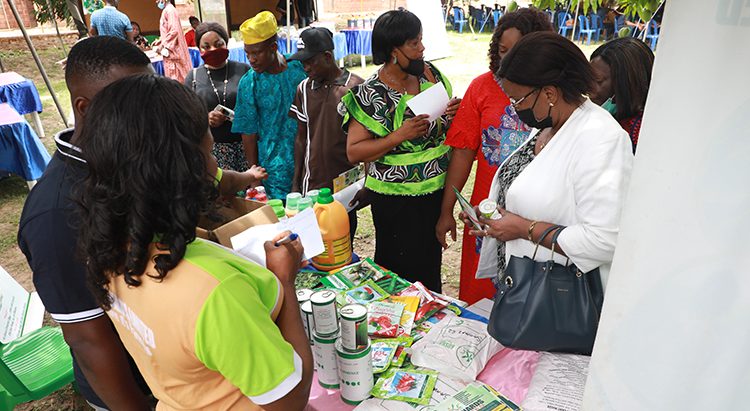 ENABLE-TAAT Open Day: Reaching out to youth and farmers in Awe
The youth-in-agribusiness compact of Technologies for African Agricultural Transformation (TAAT) organized an Open Day for youth and farmers on 27 April. The event took place at Oyo state-IITA Youth Agribusiness Incubation Park Center (Agri-Park), Awe.
The youth compact, also known as ENABLE-TAAT, presented modern agricultural technologies to participants through an exhibition of various agricultural value chains and a tour of the park.
Giving the welcome address, Chrys Akem, Coordinator of TAAT Program Management Unit, stated that the event was sponsored by TAAT, a project funded by the African Development Bank (AFDB) to demonstrate the technologies that have been developed and up-scaled throughout Africa. The project is meant to reach out to the community and demonstrate some available technologies to improve the livelihoods and well-being of the people. "The park is meant to train youth in various aspects of agriculture so that they can create businesses for themselves," he said.
One key objective of ENABLE-TAAT is to operate technology and innovation centers for young people on specific commodity value chains through a mechanism called "Food Basket Outreach." The Open Day provided an opportunity for farmers of all ages, youth in agribusiness, partner groups, organizations, agricultural experts, and mentors to rub minds on new technologies that can aid the farming system and agribusiness.
Representing Fausat Fadekemi Akande, Secretary to the Oyo State Agribusiness Development Agency (OYSADA), Adewale Babatunde gave the opening address. Following the address, former beneficiaries of ENABLE-TAAT shared testimonies about the program's effectiveness, their journey into agribusiness, and the number of youth they have employed. Seun Ogidan, CEO of F-STEP Cassava, which is into stem multiplication and production, emphasized how her business has grown from 1 hectare of cassava to 15 hectares. "I have 10 permanent staff and other casual staff," she said.
On behalf of Oba Cornelius Abiola Taiwo, the Alaawe of Awe, Chief Apostle Samuel Taiwo Oladipo gave a remark for the Awe Kingship-in-Council. He appreciated the OYSG for the opportunity to have the park at Awe and mentioned that IITA is helping Awe transform into a more orderly community. "With this program, things are taking shape and we know that agribusiness will become a reality here," he said.
A representative from Sterling Bank spoke about the availability of credit facilities for agribusiness enterprises. She mentioned that the bank is partnering with IITA to provide various loan packs for funding agribusinesses. In the closing remarks, Bernadette Fregene, Compact Leader for Sustainable Agriculture, WorldFish, said, "We encourage youth to get in touch with the Awe center and be trained on agricultural production and processing."
ENABLE-TAAT Communication Officer Dolapo Ogunsola closed out the event with a vote of thanks.