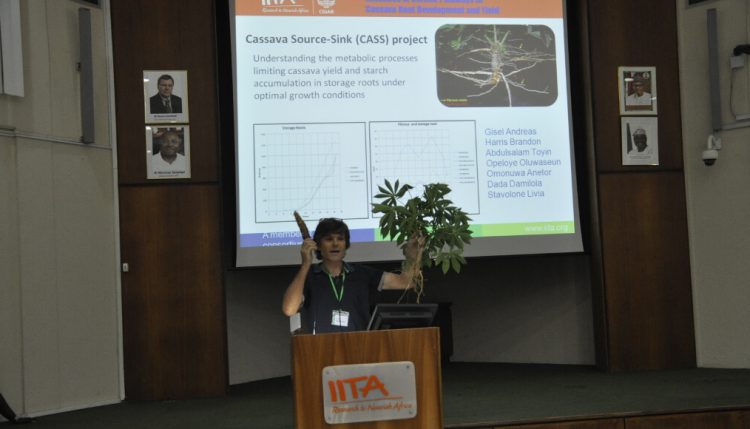 NRM, teamwork vital to achieving IITA's mission
"My take home message is that IITA will need a multi-pronged NRM approach, and probably more importantly teamwork, if we are to achieve our mission of returning 7.5 million hectares of degraded agricultural land back into sustainable use." This was the focus of the presentation of Bernard Vanlauwe, Regional Director for Central Africa and Director of IITA's Natural Resource Management (NRM) Program, in his summary of his team's presentation highlighting recent research achievements during the NRM session.
The NRM research highlights presented included household analyses and consequences for integrated soil fertility management (ISFM) by Piet van Asten, progress on cassava agronomy by Christine Kreye, advancements in soil microbiology by Danny Coyne, progress on legume intensification by Theresa Ampadu-Boakye, and cocoa and coffee intensification and conservation by Richard Asare. The presentations were preceded by an overview of IITA's NRM strategy and implementation by Vanlauwe.
Vanlauwe also emphasized the importance of fitting together IITA's research work not only within individual programs but also across the different programs. "Our NRM work—just like the work being carried out in the other programs—should dovetail into each other. We are already midway through our 2012−2020 institutional strategy and there is still a lot of work to do. However, echoing what the DG said regarding working together as a football team, we all need to do our part to achieve our overall mission and vision. IITA, oyeeee!" he concluded.