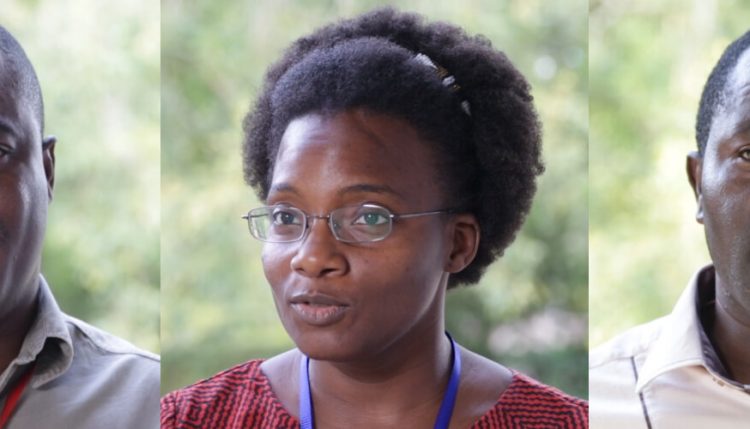 Vox pop: What are your impressions about R4D Week?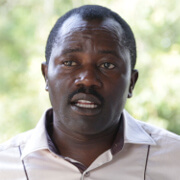 Paul Dontsop-Nguezet, SARD-SC Project Impact Economist, IITA Bukavu
This year's R4D was special and an improvement to the 2013 R4D in different aspects. The poster arrangements, the organization, in terms of logistics was a bit more impressive. And this kind of arrangement in terms of presentation, organization, and the content of presentations were also impressive.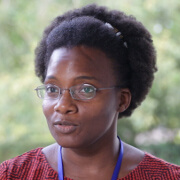 Sika Gbegbelegbe, Agricultural Economist, IITA Malawi
The R4D week has been great. I have learned a lot of things, made new contacts especially for the work I am doing, and I was able to learn some new important things to consider for the work that I will do for IITA hubs, especially to meet the key people I should work with in 2016.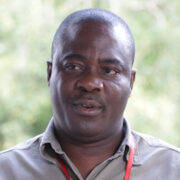 Gbenga Akinwale, Manager for Soybean Program in Malawi.
The impression from the R4D week has been really great because formerly I worked with Africa Rice. I have attended a lot of science weeks, but R4D is so unique compared to what we used to have in my former center. The experience has been so wonderful.
One of the things I really appreciate in R4D Week was seeing the DG all through, following up, and giving directions on what to do and how to package our results. I was able to meet our colleagues and network with them, learn about what others are doing. The presentation so far has been so unique and I enjoyed it.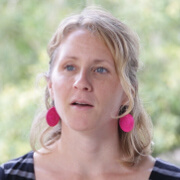 Renee Bullock, Postdoctorate Fellow and Gender Research Assistant, IITA Bukavu
It has been a great experience in that we as biophysical or social scientists are getting together and seeing each other's work and also being motivated by what we are hearing about some ongoing research and developments.
It is great to have all of us together, whether it is in a formal setting, the presentations, and also the opportunity to sit and discuss after hours. It is a rare opportunity to have all of us in one place together.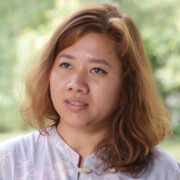 Patchimaporn Udomkum, Postdoctorate Fellow working on Food Science and Nutrition, IITA Bukavu
This is a great time for me. This is my first time attending R4D Week and this is a great time to share and learn experiences from other IITA staff.
For me, during R4D week I have learned from others in areas outside of my field of expertise.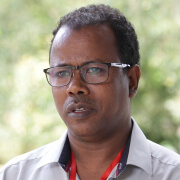 Adane Tufa, Soybean and Aflasafe Agricultural Economist, IITA Malawi
It is very nice and helpful to know new things. I got to know a lot of information, a lot of colleagues and scientists, in different locations and hubs.
I got to know the activities in different hubs and those related to my area, and a lot of information from different scientists that worked in my area.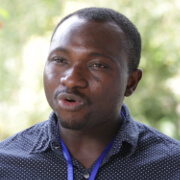 Kpaka Henry, M&E specialist, IITA Tanzania
I have been in IITA for about five months now. I can say, I knew IITA from a distance and this week provided a good opportunity to know more about what the institution does and how it hopes to make the impact that it wants to make.
It is important to know the goals IITA wants to achieve and this has been a very good time to articulate the goals' progress. It had been good to hear people express in various ways what they want to achieve.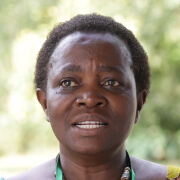 Regina Kapinga, Head of Advocacy, Country Engagement and Resource Mobilization, IITA Tanzania
So far, the R4D Week has been good. I joined the program this year and so getting together to know people was very good. Sometime back, I was a student here but now I can see how IITA has grown in diversity, in the work many people do, even more exciting with the youths and other people.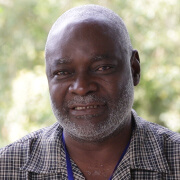 Haruna Braimah, Country Manager YIIFSWA, Ghana
The R4D week is a good program, it brings together a lot of scientists, and we meet new faces.
Yes, the R4D Week has been a surprise for some of us because we didn't have a hint on how the week would look before we came here, and it has been a bit difficult trying to get around doing things. It is a learning process though.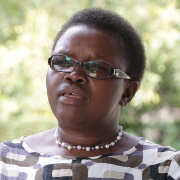 Edidah Ampaire, Project Coordinator for the Policy Action for Climate Change Adaptation, IITA Uganda
The R4D Week was remarkable; it was very important and interesting, looking at science happening, from IITA as an institution which was very interesting, because so much is going on. I did not know till I got to know through R4D Week the different work they do in different countries. I was able to link up with different colleagues. It was an opportunity for me because I had to network with different people.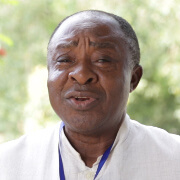 John Ikeorgu, YIIFSWA Agronomist, IITA Abuja
R4D Week 2015 is my first. I am very impressed. I told someone that the R4D Week was of high standard and I had to settle down and learn new things. I have learned quite a lot within these few days. I also appreciate the organization. It was wonderful.
Yeah, interacting with both junior and senior colleagues was great. I was a research fellow here in the 80s and I have seen that people here are now doing so well. The standard of research has been impressive.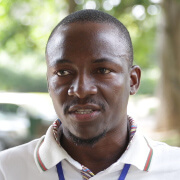 Nouhoun Belko, Crop Physiologist, IITA Kano
This is my first R4D Week. My feeling is that it is such a good and wonderful program bringing together more than 200 scientists from IITA including all hubs and stations. You meet new people and colleagues from different disciplines and research areas. It is also good for knowledge sharing through presentations; as such one can combine these new learnings to improve one's activities and science.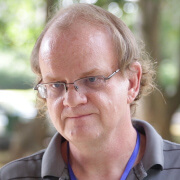 Allan Brown, Banana Breeder, IITA Tanzania
R4D Week is an exciting opportunity to meet some colleagues, and interact. I am looking forward to exploring some talent in IITA. Wonderful week so far… The sheer scope of the people here and the work that they do, and the opportunities that we have to make positive impacts on people's lives have impressed me.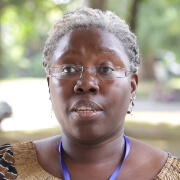 Pamela Pali, Policy Action on Crop Intensification Project Coordinator, IITA Uganda
My impression of the R4D Week, is that it is quite well organized. I have found the science presentations quite inspiring. We have a multicultural and disciplinary team and I think there I still have room for improvement. Next year, I am looking forward to having a specific session on, for example, gender, to show how our strategic research is going to translate into the practices of integrating gender into our different projects.
Anderson Kehbila, Regional Scientist on Agricultural System Intensification, IITA DR Congo
It is my first time here and I am delighted. It has given me an opportunity to meet senior scientists and listen to what has been done in the past and explore ways of using them to improve our way of thinking, and increase our productivity. I am really impressed about that.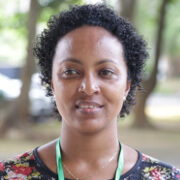 Mastewal Yambi, Policy Scientist, IITA Uganda
My impression is very positive. I really enjoyed the discussions and the diverse areas of research IITA is involved in. It was a learning experience for me since I am a new staff in IITA. There are many interesting issues; on the genetics of cropping system, breeding; the new interest in integrating gender in the different research components was interesting for me.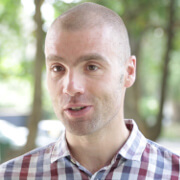 Marc Schut, Humidtropics Social Scientist, IITA, Burundi
It is a first time for me to experience a science week. I have met many new colleagues; I have been provided an opportunity to present my work, which I really liked and which was also very exciting. I got very good response about my work from people. I have been to Ibadan a couple of times but every time I am amazed by the beauty of the campus. I love to go running in the morning around the lake and this morning the Youth Agripreneurs invited me to give a talk about my work and my view on "agripreneurship", opportunities in the agricultural landscape. So far, it has been a really beautiful experience so far.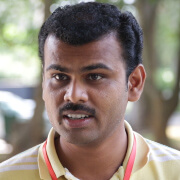 Rajesh Manoharan, Postdoctorate Fellow Yam tissue Culture and Genetic Transformation, IITA Nairobi
It is a nice opportunity. I have met more experienced scientists and had the opportunity to discuss ideas, meetings and challenges, research communication, and to know one another. It was a nice experience and I have learned a lot.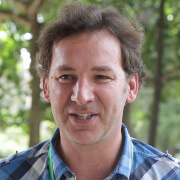 Piet Van Asten, Systems Agronomist, IITA Uganda
My impression so far about R4D Week is that it is has been a lot more science-focused than we had in the last years. It is really nice to see the diversity and the strength of IITA science. I think that is the machine that keeps IITA running. It was also great to see from DG Sanginga's presentation about how IITA managed to deal with all the fund crisis, and the CRPs. I think the strategy at IITA is taken by really focusing much more on the users, donors based here in Africa, and trying to get the funding from them directly by convincing them that we can deliver and are ready for the challenge. That was very inspiring and it has been very successful. That is one of the biggest take-home messages from this week.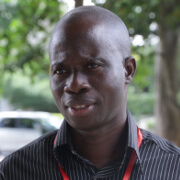 Marimagne Tchamba, GRC, IITA Ibadan
This is my first R4D week and the impression I have is that the week is science-oriented and focused on how to bring in new technologies to support science work. It is really constructive and we are on course in fulfilling our mandate to help the African population to come out of poverty. It is really encouraging.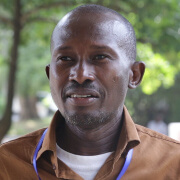 Hyeladi Gaya, Postdoctoral Fellow, Maize and Humidtropics Project
The R4D Week was quite interesting, challenging, and full of experiences that I have enjoyed. I have seen senior scientists present papers and the most interesting thing I have seen is that gender is becoming a common thing and people are coming to understand and appreciate its importance. I think this knowledge will also help me appreciate, integrate, and mainstream gender into my activities here in IITA.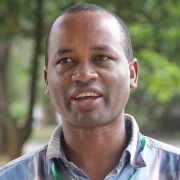 Asrat Amele, Yam Breeder, Africa Yam Project, IITA Abuja
My impression is excellent. R4D Week gives us the whole picture of what IITA is doing all over the African continent and also it is a good forum for listening to other scientists and understanding what they are doing. You are also able to see where to position yourself and your contribution to the big role IITA has to play.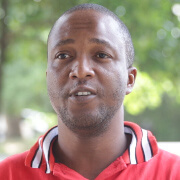 Latifou Idrissou, West Africa Flagship Manager, Humidtropics
I have a very good impression of the Week. I like the programs and presentations, the communication. The presentations made me know a lot of what my colleagues are doing, and where they are. This also helped me to reflect on my own work in line with the bigger IITA goal to know how to redirect, share experiences, or improve.