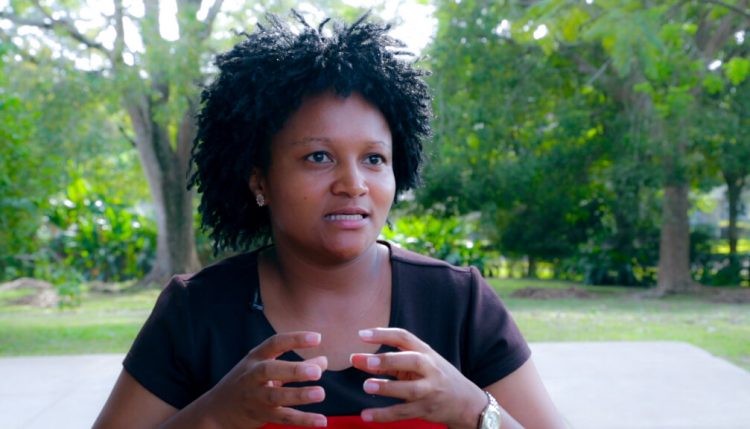 Women scientists can only be as productive as their work environment permits
How do you feel as a young female scientist working in a male-dominated field?
It is a good experience that has its challenges largely because the society has not gotten there yet in terms appreciating young women scientists. In many instances in the broader community, women have to keep proving themselves, and going the extra mile to feel recognized. I must also acknowledge that this does not happen within IITA because there are many initiatives that are recognizing young female scientists. Also the male scientists here have been very supportive so that's exciting.
Please tell us the challenges and opportunities you face as a female scientist in IITA?
Opportunities are there. IITA in itself as an institution has tried to leverage these. Mentorship is there from our senior scientists, the working environment has improved a lot, and the leadership is very sensitive to us especially as mothers. For example, I can talk to my boss about flexi-time, and he understands that I cannot perform well in my science if there are unsettled issues in my personal life. This has made my productivity very good within IITA. We also have very good leadership within IITA. The DG totally knows what we young female scientists are doing, he knows us by name, he knows us by our project and takes time to write an email to all of us and update us, for example, on what he's taking to the board so we feel integrated with the system. The management takes time to come and see what we are doing right there in the field which gives motivation; management is recognizing whatever little we are doing toward the vision or the mission of IITA. The response we get to our requests from the management is really encouraging; we don't think that because we are female or young we are not central. The response from the senior management comes to all of us in good time, so all those things contribute to our well-being.
My challenges as a woman are not necessarily within IITA. I was fortunate to come into IITA when the leadership was focused on nurturing us as new, young women scientists. If I were to talk on challenges as a woman scientist elsewhere, that I can easily bring on board. For example, in one of the places where I worked before I got 2 weeks' maternity leave. At IITA, I have been able to overcome very difficult and strenuous situations because of project leadership. If I call my boss today and tell him I want to travel with my daughter to the field because I need to watch over her at my expense, he is okay with that because he understands the need for me to be psychology or mentally at peace for me to be able to perform. So on several occasions I have taken my daughter to the field.
What can IITA do to institute a mentorship program; what strategy would you encourage IITA to take, in terms of building up young scientists?
I think IITA is fortunate in terms of a resource base for mentors. We need not look far; we have seasoned scientists who might just win the World Food Prize because they are that good in IITA. The advantage there is that we have a pool where the young scientists can start from. I think the thing is to structure young scientists who are mostly very shy to approach these mentors, by giving them a system that links them up to these people. IITA can develop a mechanism to do that and that will be a very good starting point. That way, mentors can work with young scientists and regularly check on their performance in a structured system.