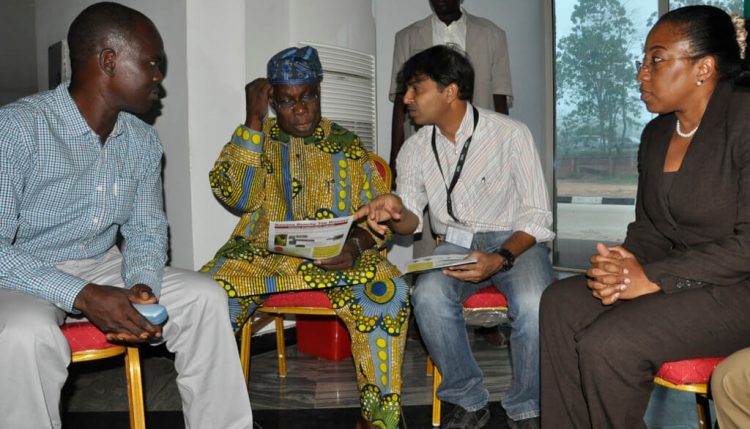 IITA launches campaign to stop BBTD in Nigeria
The 'Stop Bunchy Top' campaign to prevent the spread of the Banana Bunchy Top Disease (BBTD) in Nigeria was launched by IITA in partnership with the Nigerian Agriculture Quarantine Service (NAQS), National Horticultural Research Institute (NIHORT), and the Ogun State Ministry of Agriculture on 3 December, in Abeokuta, Ogun State. This campaign seeks to sensitize farmers experiencing the scourge of BBTD infestation and also create awareness among extension workers, policymakers, and farmers in disease-affected areas and elsewhere about the danger of BBTD and control measures, including the need to plant clean banana suckers to prevent their fields from becoming infested.
The campaign was flagged off by Hon. Ibironke Sokefun, Agricultural Commissioner, Ogun State.
Chief Olusegun Obasanjo, former Nigerian President and IITA Ambassador, graced the event. He was concerned with the spread of the new disease in Ogun State, and inquired about the level of efforts being put into controlling the disease. He praised IITA and partners' efforts and resolve towards salvaging infested farmlands and also challenged scientists to work assiduously in developing varieties resistant to BBTD.
According to FAO statistics, Nigeria has the largest land area cultivated to plantain in West Africa and is the second largest producer in West Africa, contributing about 2.8 million tons annually. The crop supports the livelihoods of millions of people in West Africa but has been recently threatened with the appearance of BBTD.
BBTD-affected banana stops fruiting and eventually withers. The disease is caused by the Banana bunchy top virus (BBTV), and spread by the banana aphid, Pentalonia nigronervosa.
BBTD was first discovered in Nigeria in 2012 in the Idologun community of Ogun State. Since then, IITA scientists, Lava Kumar and Rachid Hanna, have been collaborating with scientists from NIHORT and NAQS to contain the spread of the deadly disease and also refurbish the plantations of farmers whose fields had been infested.
"As part of the collaborative project with IITA, we have already trained more than 200 farmers in Ogun State and supplied about 8000 clean plantain suckers between 2014 and 2015," said Adenike Olufolaji, NIHORT Executive Director.
"The training focused on how farmers can identify the disease and also produce clean planting materials. We have also emphasized that clean planting materials must be collected only from certified sources because this is what guarantees a clean orchard and consequently improved productivity." Hon. Sokefun reiterated government's commitment to support the campaign and said that it was in the interest of the farmers in the country.
"Some of the decisions resulting from this campaign will be hard for farmers to initially accept…as government, we pledge to implement the decisions from this gathering today and also continue to work with IITA, NIHORT, and NAQS for the good of farmers," said Hon. Sokefun.
Farmers who attended the occasion recounted how their farmlands were invaded by the virus and how their yields had decreased since 2013. They added that intervention in the last two years is ushering in hope to revive production.
Thanking guests and government officials at the launch, Robert Asiedu, IITA Director. West Africa, represented by Kumar, said that IITA appreciates the reception and high level of support from government. He also pledged to intensify research to ensure effective control.
"I am very optimistic that in another two years when we meet we will share our success stories arising from this collective effort." Kumar said.
Other guests at the launch ceremony were partners and representatives from the Ogun State Ministry of Agriculture, the Federal Ministry of Agriculture, Agricultural Development Programs as well as farmers from the State.