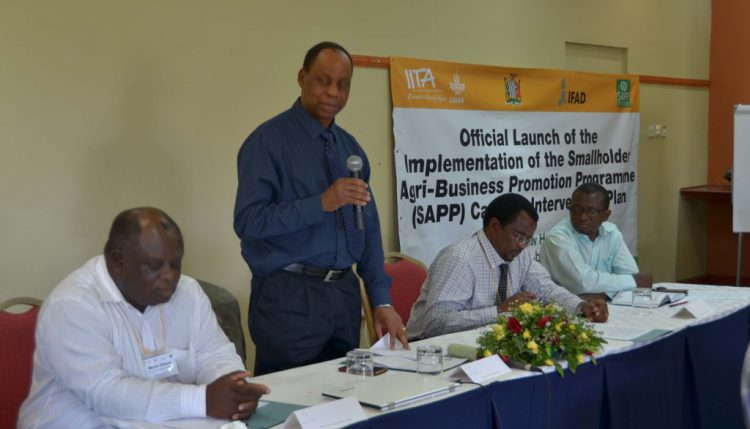 IITA-led cassava agribusiness project launched in Zambia
On 3 December, IITA launched the Smallholder Agribusiness Promotion Programme (SAPP) Cassava Intervention Plan, a project funded by the International Fund for Agricultural Development (IFAD) through the Ministry of Agriculture. SAPP aims to improve income generating opportunities for smallholder cassava producers in Zambia through the creation of major market pull for products used in the local and regional food and non-food industries, leading to enhanced market demand and farmer productivity. The launch was held at the Cresta Golfview Hotel in Lusaka, Zambia and was attended by more than 40 project partners and stakeholders of the cassava subsector across the country.
Julius Shawa, Permanent Secretary of the Ministry of Agriculture, in his keynote speech, said "In Zambia, cassava has often been regarded as a secondary crop. Cassava is so much more than a substitute crop to maize during droughts. The crop has much more potential of not only providing people with food but also incomes and livelihoods."
"It is a myth that there is little production of cassava in the country. On the contrary, cassava is the second most produced crop in Zambia after maize. Last year, we produced some 4 million metric tons of maize, while cassava production was at more than 1 million metric tons. This figure is definitely not 'little'," the PS emphasized.
"Given this figure – and with our projection of cassava production growing steadily in the next few years – this project is perfectly timed to exploit the potential of this crop, particularly in the development of related agribusinesses and markets. And with the shifting priority of the Zambian government from mining to agriculture, IITA is well placed to help bring about development to farmers through this project, especially through the cassava subsector," Shawa added.
"Through this project, we intend to make cassava the engine of economic growth in Zambia," said David Chikoye, IITA Regional Director for Southern Africa. "By exploring various ways to establish agribusinesses that promote cassava-based high-value products, as well as organizing and linking farmers to markets, this project will create vast economic opportunities for cassava growers and processors."
"One of the main thrusts of this project is to strengthen the Zambia National Cassava Association (ZANACA) to make them into an effective and sustainable organization. The existence of a strong and effective commodity association – in this case cassava – that is able to represent key stakeholders in the value chain such as farmers, traders, processors, and exporters, is an important factor to develop the cassava industry in the country," he explained.
"We will also tap women and the youth in this project, particularly in the development of cassava-based livelihoods and income generating activities," Chikoye added.
The project coordinator, Ntawuruhunga Pheneas, while presenting the project, indicated that it will be implemented in five Provinces and 10 Districts and has provided a good opportunity to bring all stakeholders along the value chain to work together to commercialize cassava in Zambia.
Partners in this project include the Ministry of Agriculture, the Zambia Agriculture Research Institute, Seeds Control and Certification Institute, ZANACA, and various private sector players and farmers.