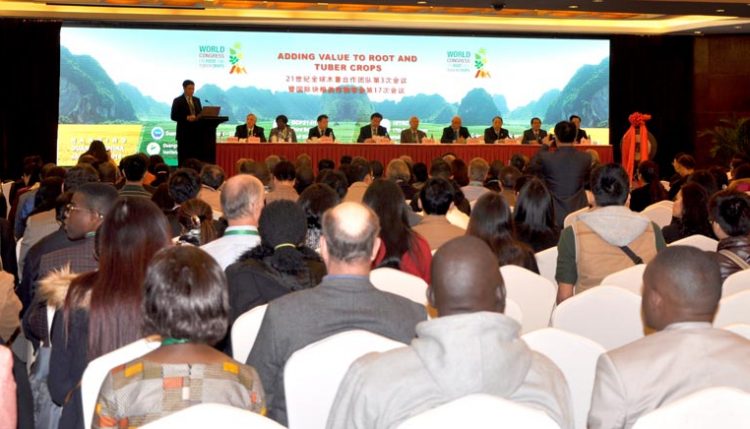 Global congress unveils huge scientific evidence on root and tuber crops
The World Congress on Root and Tuber Crops (WCRTC), held in Nanning, China, on 18-23 January, provided a wealth of scientific information on roots and tubers—more than has been imagined. More than 540 abstracts were presented, cutting across breeding, value chain, and genomics. Being the first of its kind, the WCRTC brought together more than 560 participants including researchers, policymakers, development partners, industrialists, and farmers, according to Claude Fauquet, Coordinator of the WCRTC.
Peter Kulakow, IITA Cassava Breeder, said the breadth and depth of information shared by researchers at the conference was of immense value to the scientific community.
"I see both African scientists and researchers from other parts of the world benefiting from the knowledge shared here," he said. Kulakow emphasized that the conference provided a great opportunity for young researchers to present their work to a global audience.
Grown mostly in the developing world, root and tuber crops (RTC), including cassava, sweet potato, yam, potato, cocoyam, and other root crops, are important to the agriculture and food security of more than 100 countries. Overall, they are a component of the diet for 2.2 billion people as well as contributing to animal feeds and industry. Attention and in particular funding for research of these important staples are still behind crops such as wheat and maize—a situation that has affected the amount of scientific evidence on the crops.
The WCRTC, however, revealed that much has been achieved especially in the area of genomics with several presentations highlighting the parallels and contrasts from the global south and the rest of the world.
"From the presentations, I have seen a lot of valuable work going on especially on cassava. This conference actually provides us a space to work together," said Graham Thiele, Director of the CGIAR Research Program on Roots, Tubers and Bananas.
The WCRTC was a unique opportunity for exchanging expert and scientific advice on RTCs—in particular for the global South by facilitating the discourse among key root and tuber crops stakeholders such as farmers, end-users, researchers, the private sector, and donor agencies.
It aimed to raise awareness of the importance of RTCs in the world, reviewing recent scientific progress, identifying and setting priorities for new opportunities and challenges as well as charting a course to seek R&D support for areas where it is currently inadequate or lacking.
The First WCRTC was a result of the merger of the 3rd Scientific Conference of the Global Cassava Partnership for the 21st Century (GCP21) and the 17th Symposium of the International Society for Tropical Root Crops (ISTRC).
More than 20 IITA oral presentations and even more posters were featured during the parallel workshops and presentations. IITA also participated in the exhibition, which highlighted the benefits of the Institute's R4D work not only on RTCs, but other important African staples as well.