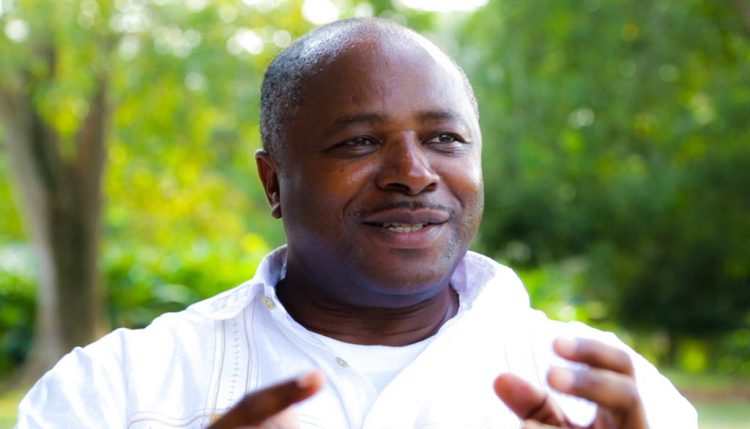 DG tours Tanzania; shares new ambitions for IITA and agriculture in Africa
IITA Director General Nteranya Sanginga has just concluded a two-day visit to IITA's Eastern Africa's office in Tanzania where he met the Institute's staff and shared his priority areas of focus for his second term as the head of the Institute.
He said he had identified three areas that he was passionate about which had grown in leaps and bounds in his first five-year tenure which ends in a few months.
These are strengthening IITA's internal corporate services which are crucial to supporting and delivery of the science, the Feed Africa initiative with the Africa Development Bank (AfDB), and building on the success of the youth Agripreneurs program whose objective is to create jobs and income for young people in Africa through agribusiness.
"I have been thinking seriously about this in the last six months: What will I focus on in the next five years if I seek another term as DG? From my experience, a second term is usually very tricky and I wanted to make sure I have new ambitions that will take me out of bed excitedly every morning," Sanginga said while addressing the staff at the hub.
"We are doing very well in our science; and we have great partnerships from the grassroots all the way to the top level. We have built donor confidence and our business incubation platform is up and running processing aflasafe and NoduMax and we are thinking of adding aeroponics and tissue culture. We now need to strengthen our internal corporate services – finance, HR, and IT. So my second term will focus more inwards to ensure more efficient services.
Feed Africa is a major initiative of the AfDB to transform agriculture in Africa and with it, the Bank was keen to work with CGIAR centers with IITA playing a key role, Sanginga said. "In this regard, we are having a major summit at Headquarters bringing together all the CGIAR centers working in Africa and major donors to kick off the initiative and discuss its implementation."
He noted that the Agripreneurs program that IITA, under his leadership, started three years ago was already well established in five countries – DRC, Kenya, Nigeria, Tanzania, and Uganda – and getting a lot of support. For example, in Nigeria, the government was providing support to replicate the program across the country to more states. The AfDB supports the initiative and is keen to take it across the continent. Recently the University of Michigan had expressed interest to work with the group and conduct research on changing the mindset of the youth towards agriculture.
Sanginga also spent time talking to and mentoring the youth in Tanzania as well as visiting their processing center that had been constructed with support from the AfDB. He reminded them that agriculture is one of the sectors that had real potential to create employment and that IITA scientists and researchers were ready to share knowledge and the technologies they are developing.
"Believe in yourselves. Through agriculture and this initiative you can create your own jobs and even employ others."
He also told the youth that IITA will be counting on them to encourage other youth to go into agribusiness. "We are receiving a lot of support from policy makers in different countries wanting to adopt the program. The AfDB is also keen to start investing in youth in agribusiness across 23 countries in Africa using the IITA model. So we will be counting on some of you to help in this initiative to help change the youth's mindsets in agriculture in many countries."
Sanginga was in the hub as part of efforts to keep the staff in the region updated with the latest developments and future plans and keep abreast of what is happening at the hub. He was well received by the team at the hub led by the Director for Eastern Africa, Victor Manyong.