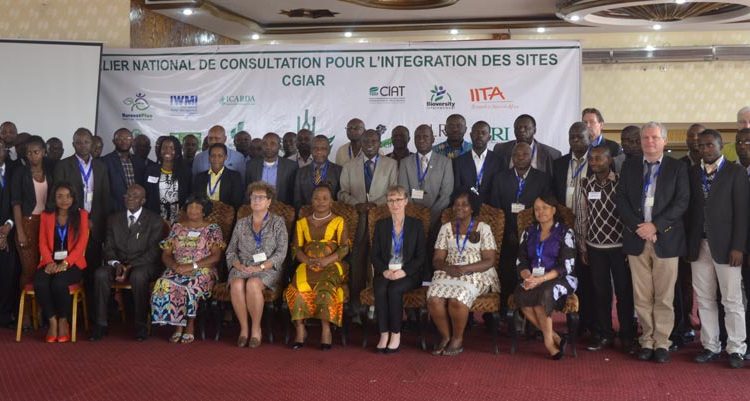 CGIAR site integration workshop held in DRC
Another national consultation workshop for the integration of CGIAR centers organized by IITA took place in Kinshasa, Democratic Republic of Congo (DRC) on 19 February.
The event, the third to be hosted by IITA for the CGIAR Consortium, brought together more than 60 public-private partners from the country and civil society. CGIAR Research Program (CRP) representatives based in other countries were among those who attended the meeting.
The workshop was launched by the representative of the DRC Minister of Agriculture, Prof Luciens Nyembo, Cabinet Director, who recognized the importance of CGIAR centers in the country, citing the example of the science laboratories in Kalambo built by IITA in Bukavu, which he said were up to international standards. He also expressed his government's willingness to work with CGIAR centers. Again, he cited the government-funded 3-year project with IITA on reviving agricultural research in the country.
IITA was represented at the event by Ylva Hillbur, DDG Research for Development (R4D); Bernard Vanlauwe, IITA Director for Central Africa Hub, and other scientists.
Introducing the context and purpose of the meeting, Hillbur indicated that the second phase of CRPs (2017-2025) presents additional innovations: a well-integrated portfolio, alignment of research with national priorities, and coordinated and transparent interaction with local stakeholders and partners. She added that the national consultation workshops constitute the first step in the integration process and aim to engage partnership, find synergies, and learn about national priorities.
During the event, participants looked at the country's development challenges and priorities via panel and group discussions. In the discussion panel, development practitioners, research partners, the donor community, and the private sector, were represented by SNV (a Dutch NGO), Institut National pour l'Etude et la Recherche Agronomiques (INERA), USAID, and the Agro-Industrial Park of Bukanga-Lonzo. CGIAR centers represented include AfricaRice, CIAT, CIFOR, CIMMYT, ICRAF, IFPRI, IITA, and ILRI.
Participants looked at examples of successful collaboration in the country and strongly recommended the creation of a national R4D platform by IITA in consultation with INERA as the government representative, the Federation of Farmers Cooperative as the civil representative, and the chair of donor communities. Other themes identified by participants were the need to have a common vision on R4D; to clearly define AR4D priorities; to aim at impact at scale; and a strategy on capacity development.
The workshop was covered by the local media (TV, radio, and newspapers).