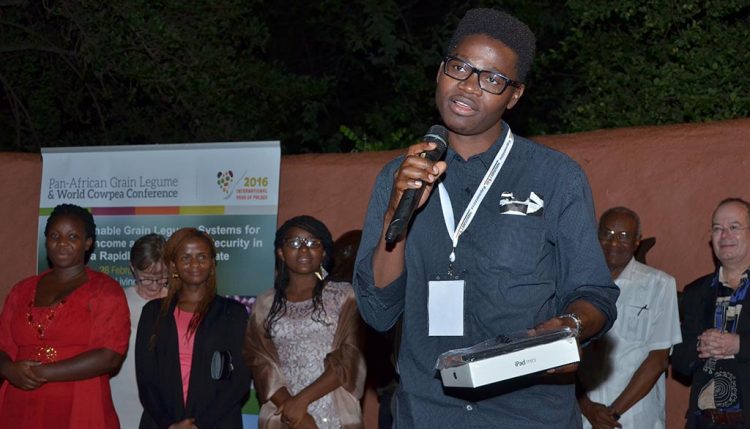 Mozambican named Young African Grain Legume Scientist 2016
IITA has named Mozambican Arsenio Ndeve as Africa's Grain Legume Scientist 2016. The 35-year old beat entries from Burkina Faso, Kenya, Uganda, Nigeria, and Malawi. Apart from a plaque of recognition, Ndeve also received an Apple IPad during the awarding ceremonies held at the Gala Dinner of the Joint Pan-African Grain Legume and World Cowpea Conference in Livingstone, Zambia.
Ndeve was selected from among a final selection of five other young scientists that included Paul Aseete, 29, of Uganda; Glory Mbah, 25, of Nigeria; Valentine Wacu Kamau, 29, of Kenya; Poda Saadon Leandre, 32, of Burkina Faso; and Yankho Kamila, 26, of Malawi.
Ndeve stood out for his research and also as a great role model to encourage young Africans into science. The selection committee described him as "genuinely enthusiastic, not only about his work but the need for more young people to pursue science as a career, especially in legumes, where the majority of scientists and researchers are nearing retirement."
He declared his delight at being named Africa's finest during the International Year of Pulses 2016 event: "I'm so overwhelmed. It's a great honor. I'm so motivated to continue my research. Grain legume research requires creativity and forward thinking. I always ask myself, 'how can my research be applied in a functional way to improve the lives of people in my country?' That is my dream."
Farmers and consumers in Mozambique could be hugely assisted by his work into disease that affects cowpea.Ndeve's work could mean that instead of crops failing and dying from disease the crop could be made more reliable, enabling farmers to guarantee their investment and ensure that more of the crop is harvested for consumption.
The scientist, who is pursuing his PhD in plant pathology at the University of California, Riverside, is working to understand the genetic mechanisms behind cowpea's susceptibility to these stresses to manipulate its natural strengths to develop disease resistance and increase productivity.
The competition was part of the 2016 Pan-African Grain Legume and World Cowpea Conference in Livingstone, Zambia, in recognition of the UN-declared International Year of Pulses.
Its aim was to recognize up and coming researchers who are the future of grain legume research in their countries, contributing to the future of agricultural sustainability and food security in Africa.
Entrants were asked to write a 400-word essay answering the question: "How will your grain legume research impact the developing world?" Apart from submitting an essay, entrants must be attending the conference and be present to win, an African, aged 35 years or less, a student or have graduated in the last 5 years (master's or PhD), and active in research.