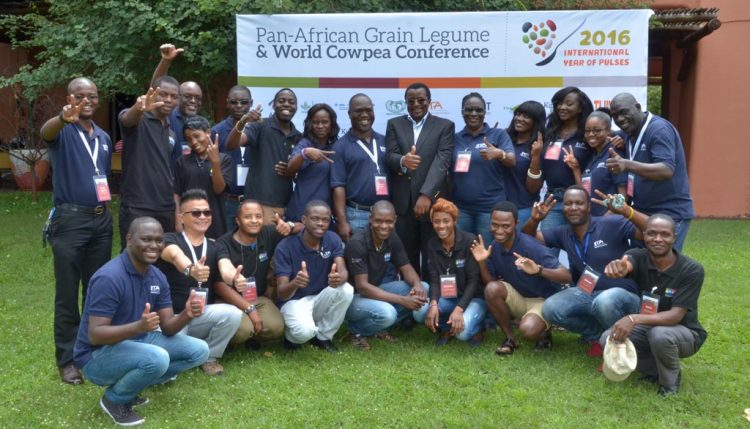 Teamwork key to success
Asked about the vital ingredient to the success of the conference, David Chikoye, IITA Regional Director for Southern Africa, simply stated: "teamwork".
"The (conference) journey began exactly 12 months ago when we started planning for hosting the World Cowpea Conference. Along the way, we changed the initial plans when IITA agreed to join hands with Michigan State University's Legume Innovation Laboratory to host the Joint Pan African Grain Legume and World Cowpea Conference. At that time, we estimated that we would be fortunate to have 300 participants."
"We have now verified that 583 participants from 46 countries attended the conference, with over 600 people attending the Gala Dinner!" he exclaimed.
"However, all of these would never have materialized without the hard work of the numerous people working hand-in-hand for this conference, both within and outside of IITA. While I would like to thank everyone individually, there are just too many to mention. However, I would like to give special mention to the 'men and women in black/blue' for going above and beyond to ensure that this conference was organized and was run smoothly."
Chikoye was referring to the conference staff wearing black/blue IITA-branded shirts, which he acknowledged and presented to delegates at the closing ceremony of the conference and who were met with much applause from the grateful participants.
He also cited the various donors and sponsors who supported the conference, which included the Alliance for a Green Revolution in Africa (AGRA), Archer Daniels Midland (ADM), Center for Coordination of Agricultural Research and Development for Southern Africa (CCARDESA), CGIAR Research Program on Grain Legumes, Crop Science Society of America (CSSA), Feed-the-Future Innovation Lab for Climate-Resilient Chickpea, Feed-the-Future Innovation Lab for Climate-Resilient Cowpea, Global Pulse Confederation (GPC), International Center for Research in the Semi-Arid Tropics (ICRISAT), International Development Research Centre (IDRC), Pan-Africa Bean Research Alliance (PABRA), Putting Nitrogen Fixation to Work for Smallholder Farmers in Africa (N2Africa), The Bill & Melinda Gates Foundation, The Kirkhouse Trust, The McKnight Foundation, Tropical Legumes III Project, University of Zambia (UNZA), US Agency for International Development (USAID), Zambia Agriculture Research Institute (ZARI), and the Zambia Ministry of Agriculture and Livestock (MAL).