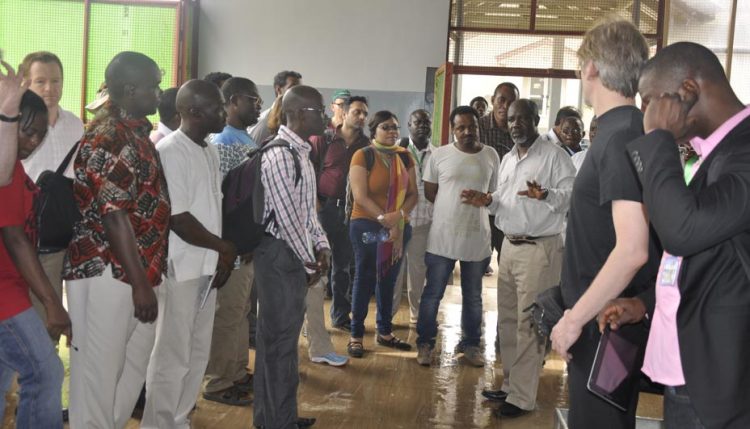 BiomassWeb project group visit IITA
Over 50 members of the BiomassWeb Project including scientists, postdoctoral, doctoral, and master's degree students from various institutions in five countries―Ethiopia, Germany, Ghana, Kenya, and Nigeria―visited IITA-Ibadan for an excursion on 26 February. The BiomassWeb Project aims to contribute to food security in sub-Sahara Africa by focusing on biomass-based value webs and innovation in the agricultural sector.
Alfred Dixon, representing IITA DDG Kenton Dashiell, welcomed the visitors to IITA. He talked about IITA's research work and output on banana, cassava, coffee, cocoa, cowpea, maize, soybean, and yam; and described IITA's programs, projects, and facilities and how it is working with other research institutes and universities. Other IITA staff present were Michael Abberton, who represented Robert Asiedu, R4D Director for West Africa; Sylvia Oyinlola, Regional Administrator; Terngu Abur, Visitors Assistant; and Adebayo Abass, IITA scientist, and BiomassWeb project manager, work package 5.3.
The team were taken on a tour of the Cassava Processing Center, IITA Youth Agripreneurs office, Aflasafe plant, and the outstation of the International Livestock Research Institute (ILRI).
Various processing techniques and machines in the production and processing of cassava into high quality cassava flour were showcased during the tour. At ILRI, Country Manager Iheanacho Okike, explained how ILRI undertakes research on animal health, genetics, forages, impact assessment, and production systems focusing on cassava peels. There was also an elaborate demonstration on the processing of cassava peels into animal feed. The economic advantage of processing cassava peels into animal feed compared to maize and other feeds was also shared by Okike.