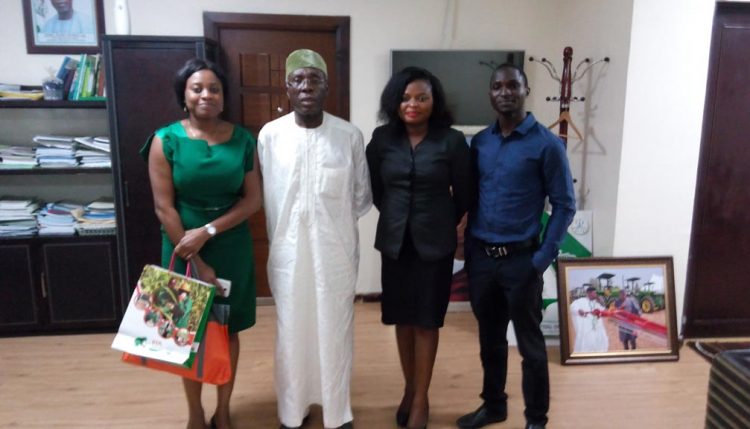 Nigerian Agriculture Minister to support IITA Youth Agripreneurs
Nigeria's Honorable Minister of Agriculture, Chief Audu Ogbeh, has expressed interest in supporting the IITA Youth Agripreneurs (IYA).
Receiving the IITA and IYA delegates led by Director General Nteranya Sanginga, in his office on 14 March, the Minister said the initiative was in line with his administration's vision of ensuring that agriculture is embraced by Nigerian youth as a business.
Expressing delight about the IYA program, Chief Ogbeh promised to negotiate a 100-ha piece of land for the IITA Youth Agripreneurs in Abuja at Gurara Dam Irrigation Scheme Land. He also promised two tractors to mechanize crop production and operations.
The Minister said "Agriculture will be the next goldmine of the world." He added that the country is finding it difficult to meet the food supply demand from countries around the world.
He enjoined the youth to tap into the opportunity and secure the future by taking agriculture as a business. He added that the Ministry will build a Youth-Agroindustrial Complex in Abuja and other states to train and empower youth in agribusiness.
The Minister also emphasized banana/plantain production through the tissue culture technique. He urged IITA to invest more in tissue culture to enhance production of suitable banana/plantain for export.
Responding to the Minister, DG Sanginga highlighted IITA's efforts in the areas of food production and research. He said IITA has the expertise and resources to boost food security and production in Africa.
The IITA entourage included Alfred Dixon, Gbassey Tarawali, Toyin Oke, Evelyn Ohanwusi, Ene Agada, and Zacchaeus Isuwa.