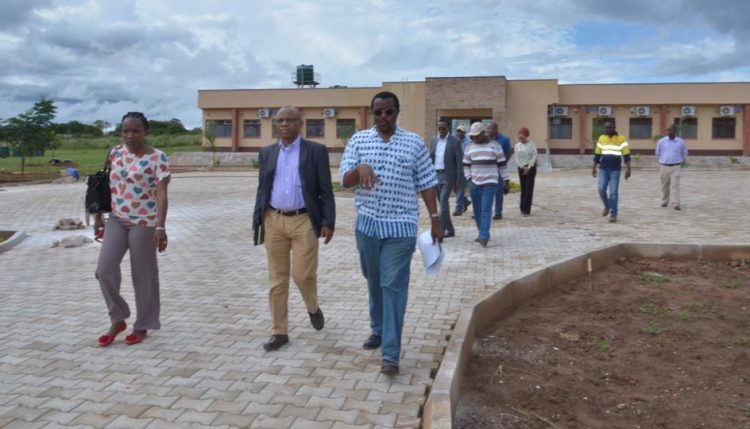 AfDB delegation visits new IITA-Zambia research facility
On 11 March, a delegation from the African Development Bank (AfDB) led by Dr Chiji Ojukwu, Director of Agriculture and Agro-Industry, conducted a site visit to IITA-Zambia's new regional hub office and research facility at its Southern Africa Research and Administration Hub (SARAH) campus in Kabangwe, Chongwe District in Lusaka Province, some 15 km north of Lusaka City center. AfDB provided funds for the construction of the new IITA-Zambia facility through its Support to Agricultural Research for Development of Strategic Crops in Africa (SARD-SC) project that IITA is implementing across 24 African countries including Zambia.
The AfDB team was taken on a tour around the SARAH campus by David Chikoye, IITA Southern Africa Regional Director. They were accompanied by IITA staff Pheneas Ntawuruhunga, cassava breeder; Godfrey Chigeza, soybean breeder; Emmanuel Alamu, food technology specialist; Clare Ruhweza, Regional Facilities Maintenance Manager; Jonsen Malama, IITA-Zambia Facilities Maintenance Officer; and Jeffrey Oliver, Regional Communication Officer, as well as contractor representatives.
Aside from visiting the main building that houses the scientists' and administration offices and a laboratory, the AfDB delegation were also taken on a tour of the machinery fabrication workshop, the farming equipment shed, and the cassava and soybean demonstration and trial plots. At each of these places, the AfDB delegation was briefed about how the facilities will be used to expedite IITA's mission and vision in Southern Africa and how these will contribute towards attaining the objectives set out by the SARD-SC project.
On briefing the AfDB team, Chikoye said, "The biggest challenge that we had before was that we lacked our own research facilities, which curtailed our research-for-development work in the region. With these new facilities that AfDB helped us build, this will not be a problem anymore."
"Specifically, now we would be able to better do research to reduce the drudgery of work usually associated with agriculture, develop and test high-yielding crop varieties attuned to the conditions of the region, and bring in African youths into agricultural entrepreneurship," Chikoye added. For the latter, Chikoye was referring to plans of using the campus as hands-on training ground for youth-in-agriculture programs that AfDB is championing.
"I am very impressed with what you have here, but I am even more impressed about your plans and the potential of this research campus," said Ojukwu. "I am extremely proud that AfDB will be able to help IITA realize its mission and vision in the southern African region."
"And yes, there are still some things that need to be ironed out, but teething problems are expected of new buildings and facilities. I am sure these will be sorted out in due time," he added.
During the visit, Ojukwu especially pointed out trials being carried out by IITA-Zambia on developing improved varieties of cassava, a focus crop under SARD-SC. He also expressed interest in the agricultural machinery shown to the group, as well as the soybean variety trial work.
"However, what I will be intently watching out for are your plans for bringing in Zambian youths into agribusiness, with this campus as training platform. AfDB will be very interested in how you will be bringing this plan into fruition," he emphasized.