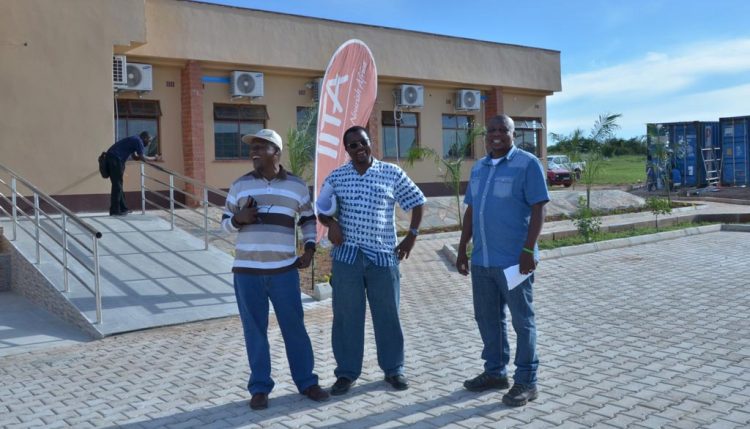 IITA-Zambia moves to new home
The 11th of March marks a major milestone in the history of IITA-Zambia as the day that the institute's regional headquarters for southern Africa is finally "home" – moving to its new, permanent research and administration facility in Kabangwe, Chongwe District in Lusaka Province, some 15 km north of downtown Lusaka City.
The facility is situated within the sprawling 50-ha IITA Southern Africa Research and Administration Hub (SARAH) campus. Current infrastructure includes a science and administration block with offices, laboratory and conference room, a pavilion, a security gatehouse and drivers' lounge, an agricultural machinery fabrication workshop, a cassava processing building, farm machinery and equipment shed, and demonstration/trial fields currently planted to cassava, soybean, cowpea, and maize.
At the first official staff meeting at the new site, David Chikoye, Regional Director for Southern Africa, told IITA-Zambia staff that "although there are some things that still need to be finished in this new facility, this is ours, a place that we can finally call home."
"Teething challenges are expected of new facilities, but we'll eventually smooth things out," he added. "The important thing is that we are already here, and with these facilities we can move our research agenda for southern Africa even faster and more efficiently."
"For now, all I am asking is for your cooperation and patience – moving and adjusting is never an easy thing to do, especially considering that we have been in our old office since IITA-Zambia was set up back in 2009." Chikoye was referring to the former office situated in a rented two-storey house in Avondale, Lusaka.
The moving of IITA-Zambia to the new SARAH site is the culmination of the dream that was first set into motion with a ground-breaking ceremony held almost 3 years ago, on 12 September 2013. That event was presided over by Dr Guy Scott, then Vice President of Zambia, and attended by IITA's Board of Trustees and Senior Management Team.
"This SARAH facility would never have materialized without the help of the African Development Bank (AfDB), which provided funds for construction through the SARD-SC project. On behalf of the IITA-Zambia Team, I would like to thank them for their support," Chikoye emphasized.
Chikoye also revealed immediate expansion plans for the new SARAH facility, including the construction of screen houses and a cassava in vitro seedling laboratory this year. "If things fall into place, we should have these additional research structures up by the end of this year," he proudly concluded.
IITA-Zambia's official address is now: IITA-Zambia, Southern Africa Research and Administration Hub (SARAH) Campus, Plot 1458B, Ngwerere Road (5 km off Great North Road and adjacent to ZamSeed Farms), Chongwe District, Lusaka Province, PO Box 310142, Chelston, Lusaka, Zambia.