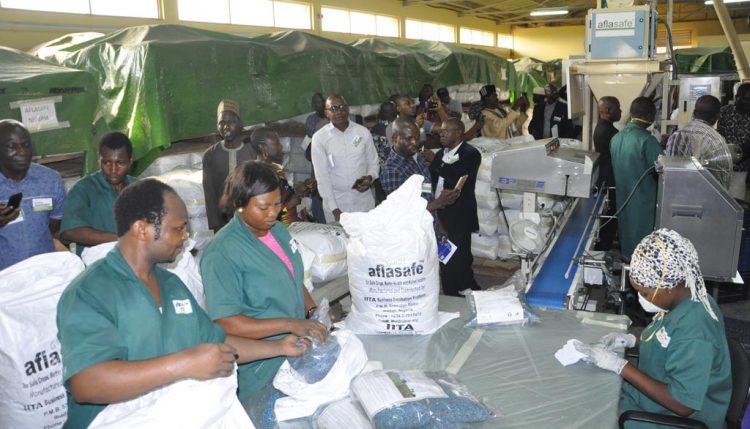 AgResults conducts induction workshop for new implementers
To provide safe crops, better health, and higher income, the Agresult Aflasafe™pilot project recently held its third annual induction workshop for 16 new implementers that will  facilitate the adoption of Aflasafe and work with smallholder farmers to increase the productivity and profitability of their aflasafe-treated maize. The workshop was held 16-18 March at the Conference Center, IITA-Ibadan.
The project is experiencing an exponential increase in the buy-in of implementers and the adoption of Aflasafe by farmers in Nigeria. During the first  year, 1,000 farmers participated and over 2,000 tons of aflasafe-treated maize were aggregated—meaning, maize brought to collection points by project participants. In the second year over 6,000 farmers participated, and 9,000 tons of aflasafe-treated maize were aggregated. By the third year, nearly 35,000 participating farmers are expected to produce 100,000 tons of high-Aflasafe™ maize—maize that is free from aflatoxin contamination.
Moreover, the number of implementers or aggregators working with these smallholders to improve the quality and quantity of maize produced has increased from 4 at the initial stage to 16 implementers last year; now the project is inducting 16 new companies. The numbers are expected to grow in the coming years.
A new implementer, Femi Osunraye of Business Support Academy, commented: "When we saw the advertisement in the newspaper, we decided to apply for the program because it's in line with what we do business-wise… Financially, the incentives are lucrative and can be shared between our organization and farmers. Secondly, as a business, we believe it's part of our social responsibility to provide safe food for Nigerians as well as help farmers improve their livelihoods."
The project exploits the principles of the "pull mechanism" to successfully promote and disseminate Aflasafe. The project encourages private sector-driven and profit-oriented agriculture and provides smallholders with economic incentives for adopting Aflasafe™. The structure of the pull mechanism features per-unit payments for performance that is tied to the number of kilograms of maize treated with aflasafe™ collected from maize aggregators.
Tolu Owolabi, a representative from the Babban Gona farmers' group, said: "One of the project's greatest benefits is that it has added value to the maize that we produce in Nigeria especially for our farmers. Right now agriculture is again becoming a key economic driver in Nigeria, and there is a need for our farmers to be encouraged to be able to get more money for their products. Through the project, we've been able to improve the quality of our maize and encourage export; this can increase the value for our farmers. Currently, our farmers are beginning to have so much pride in knowing that what they produce has value… they earn three times more for their produce. They now have more money in their pockets; they are free to achieve more dreams, they are free to dream more dreams."
"It isn't business as usual with AgResults. It is a market-oriented and profit-driven project where the implementers and the smallholder farmers jointly drive the project as a business to create the required sustainability within the value chain," explained Debo Akande, AgResults Project Manager. "To achieve such sustainability requires a paradigm shift on the part of farmers and implementers; we are seeing that already. In this workshop, the new inductees have been taken through processes of understanding what it means to conduct agriculture as a business. They've learned what agribusiness is all about. They now know the difference between doing agriculture as subsistence and producing for business," he concluded.
Another key milestone for the project was the active participation of representatives from major financial institutions in Nigeria at the workshop. Access to credit is a major concern for farmers and was addressed during the meeting. "One lesson we've learned is that access to finance is a key problem for most smallholders and organizations that are working with them. This year, we invited representatives from seven leading banks in Nigeria to promote their banking services on agribusiness financing. They've developed precise financial loan packages for implementers on the project," Akande further explained.
Ayo Shola, a representative from Ecobank, commenting on providing loans to farmers and agribusiness organizations, said: "Crops are high-risk products. We have to consider all aspects of the request to mitigate risk… For example, traditionally the farmer only harvests 1 ton of maize per hectare; but with what we have seen and heard in this workshop, farmers can actually produce about 5 tons per hectare. With such knowledge from IITA on the available technologies for boosting production, financial institutions will be willing to invest in farmers who use such technologies because we know that the farmer's business is now based on what the research says he or she will get and the markets available. It's all about mitigating risks."