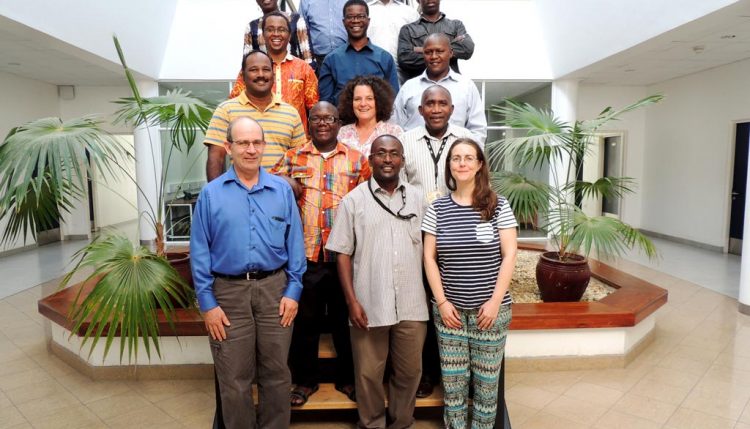 IITA cassava breeders mull new strategy to step up efforts and embrace technology for quicker delivery
All the IITA cassava breeders convened at the Institute's Eastern Africa hub in Dar es Salaam to develop a strategy to guide and shape IITA's efforts to develop improved cassava varieties suited to mechanized production that are high yielding and resistant to the major diseases and pests affecting the crop's production in sub-Saharan Africa in the next five years.
This is part of the ongoing alignment of IITA's activities to enable the institute to deliver on its refreshed strategy whose goal is to move 11.5 million people out of poverty and to rehabilitate 7.5 million hectares of degraded land.
The joint strategy for cassava breeding will also harmonize ongoing cassava breeding work in all the different hubs to ensure that the breeding programs are aimed towards similar goals by a cohesive breeding team.
Speaking at the meeting, Peter Kulakow, head of cassava breeding at IITA, said this was a critical and timely meeting for the team to agree on how to modernize cassava breeding operations and to define priorities for the next five years.
"Our goal is to improve communication and collaboration among breeders to increase efficiency in production of elite germplasm," he said.
During the meeting, the breeders shared the progress they have made in the different subregions of Africa—East, Central, Southern, and West, identifying common goals as well as specific hub niches.
The breeders agreed that the breeding efforts will be driven by strategic product pipelines based on key end-uses of cassava such as varieties with high starch content for industrial use, sweet varieties for consumption of fresh roots, and also yellow-fleshed cassava with high pro-vitamin A to improve nutrition.
They also agreed to pilot test the use of marker-assisted selection in at least two hubs for improvement of cassava mosaic disease resistance, cassava brown streak disease resistance, and enhanced beta-carotene for biofortification. This will capitalize on the advances in cassava genomics and the marker-trait associations that have been discovered in work led by molecular breeders Morag Ferguson and Ismail Rabbi.
The breeders also agreed to work closely together with the data management team based in Ibadan to mainstream the use of Cassavabase in each hub and to improve data analysis to help communicate the results of IITA cassava breeding research.
In addition, the breeders shared the major challenges they face and explored ways to address them. Some major challenges identified included lack of necessary infrastructure such as the lack of a tissue culture lab at the East Africa hub; and dwindling operational funds for core breeding operations which in turn has limited breeding activities in the different hubs. The teams agreed to make efforts to raise funds by developing joint proposals.