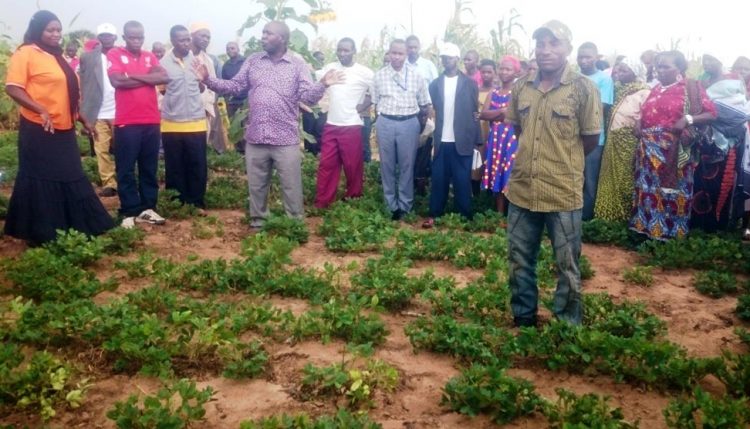 Farmers' field day demonstrates use of fertilizer and AflasafeTM technologies to revive groundnut production
IITA and the Agricultural Research Institute (ARI)-Makutupora organized a farmers' field day in Kongwa District, Dodoma Region, Tanzania to create awareness on improved farming methods to increase groundnut production in the region.
Kongwa District is among the top producers of groundnut in the country; however, its production is being threatened by climate change and aflatoxin contamination.
The technologies demonstrated at the event, which attracted over 400 farmers, included the use of fertilizers―organic and inorganic―and AflasafeTM to control aflatoxins, the deadly poisonous chemicals produced by certain fungi in foods and feeds and especially maize and groundnut. A new improved groundnut variety "Pendo" was also showcased.
This was part of activities of the N2Africa project led by Wageningen University with IITA and ARI as key partners.
Speaking at the event, Anfigwege Mwaipopo, the Acting Kongwa District Executive Officer and guest of honor, said farmers' adoption of the technologies would catalyze groundnut production in the area and add to its market value.
Mwaipopo particularly noted that aflatoxin was of particular concern as it negatively affected the health of the community and reduced the crop's market value.
Leon Mrosso, the Central Zone Research Director from ARI-Makutupora, urged the farmers to adopt the new technologies to increase their productivity and income. He also urged them to share the technologies they had seen especially on AflasafeTM among other farmers.
"AflasafeTM can help protect farmers and their families from aflatoxins, which cause serious diseases such as cancer. Farmers should be made aware of aflatoxin and how to reduce it in their produce using Aflasafe," Mrosso said.
Mwantumu Omary, N2Africa Business Development Officer, said the project was working closely with farmers to identify challenges in legume production and finding sustainable solutions through research. The project's overall aim was to increase legume production.
IITA Researcher Technician Reuben Samwel talked about AlfasafeTM. He said the technology was safe and environment friendly and can significantly reduce aflatoxin contamination in groundnut and maize at harvest and in storage. He encouraged farmers to use it along with other technologies such as fertilizers to get a safe product.
Village Chair Jeremiah Mtua appreciated the efforts of the project and the government in supporting farmers in groundnut production and creating awareness on new improved farming methods. He said the new improved variety should be made available to farmers.
N2Africa works in 12 villages of Kongwa District, Dodoma, each with a trial plot to demonstrate the improved technologies.