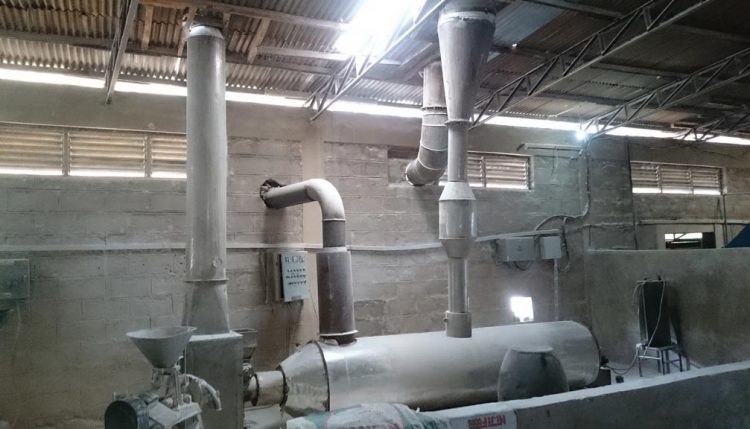 Making large scale-cassava drying technologies work for small-scale processors
One of the greatest challenges facing smallholder farmers and small-scale entrepreneurs in processing cassava is drying. Many of them rely on sun-drying which limits processing during the rainy season as well as affects the overall quality. As a result they are not able to supply their produce to industries which need regular, all-year-round supply and consistent quality.
The pneumatic dryer has been identified as one of the most appropriate drying technologies for high quality cassava flour and starch. It is widely used by large-scale cassava processors in Brazil, Thailand, and even Nigeria.
The IITA cassava value addition team and partners have introduced the technology in Nigeria and more recently Tanzania for use by medium and small-scale processors. This is part of efforts to promote cassava as a source of industrial raw material and tap into its huge but unutilized potential to improve livelihoods and incomes of rural communities. However, there is need to adapt it to make it suitable and appropriate for them. This was the focus of Marcelo Precoppe, an engineer from Brazil, who just finalized his two year post-doctoral work at IITA based in Dar es Salaam, Tanzania.
Using participatory design development approaches and his engineering knowledge, Precoppe has been working with the processors and manufacturers in Nigeria and Tanzania to make the dryers more efficient and suitable for small-scale processing.
"We realized that a major challenge for the pneumatic dryers was high heat loss, low energy efficiency, and high fuel consumption. This was because the dimensions and length of the drying duct were not properly calculated to factor in air velocity and flow rate", he said while giving a seminar on his last day at the hub.
"From a choice of many options including increasing the length of the drying duct, we settled on correcting the air velocity inside the duct by reducing the speed of the blower and this in turn reduced the speed of the air flowing through the duct," he said.
"There was a significant reduction in energy consumption with this simple, low-cost modification. However, a lot more still needs to be done to make the dryers really efficient," he said.
Victor Manyong, IITA Director for Eastern Africa hub, commended the work saying it was very valuable to the institute's efforts to alleviate poverty through value addition of key staple crops: "With value addition, farmers get more money from their produce and we are also able to reduce postharvest losses and particularly for a highly perishable product like cassava." he said.
Precoppe said while participatory design approaches were time consuming they were very effective in ensuring that a technology was appropriate―well adapted to the end users' needs and requirements and the local conditions as well as easy to use and maintain.
This leads to a higher level of adoption of the technology and sustainability of the project. However, for it to work there has to be an efficient and continuous feedback mechanism between the user, manufacturer, and researcher.
Precoppe worked with Ukaya processing center in Tanzania and Niji farms and Niji Lucas in Nigeria.
The results of this study have been published in the Journal of Food Processing Engineering: Tunnel Dryer and Pneumatic Dryer Performance Evaluation to Improve Small-Scale Cassava Processing in Tanzania while another manuscript is in the pipeline for publication.