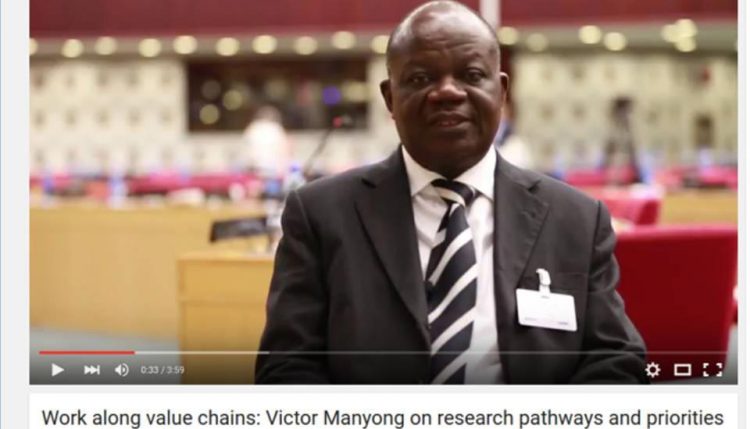 Science Forum 2016 looks at R4D priorities of CGIAR centers
The agricultural research-for-development priorities of CGIAR centers received attention during a panel discussion held on the last morning of a three-day (12–14 April) Science Forum organized by the CGIAR Independent Science and Partnerships Council (ISPC) in Addis Ababa-Ethiopia. Addressing the question: What exactly is needed to fulfil on CGIAR's mission to reduce poverty, hunger and environmental degradation through agricultural research for development?, the team of five panelists who included IITA's Director for Eastern Africa Hub and leader of Social Science Group, Victor Manyong, served up interesting insights and thought-provoking ideas on how CGIAR can more effectively contribute to rural prosperity.
First to speak was Jimmy Smith, Director General of the International Livestock Research Institute (ILRI). He noted that while the CGIAR's main research priorities are already set, the main contention remained on how it will deliver "the goods" with regard to enhanced food and nutritional security, poverty alleviation, and sustainable use of natural resources.
"We like to think CGIAR—with its 10,000 staff and 1 billion dollar annual budget—is big and important. But we are relatively small. We get, for instance, less than 10% of the resources invested in global agricultural research and our staffing strength cannot match that of others, such as the Indian Council of Agricultural Research for example; which, with 200,000 staff, is 20 times greater," noted Smith as he set the tone for the discussions by the panel.
"So we need to be strategic about what we do. And we can do this by designing our work to be catalytic, facilitatory and to establish effective partnerships through careful selection," he added.
Taking the cue from Smith's opening remarks, IITA's Victor Manyong went ahead to focus the discussions on what change of orientation is necessary if the impact of CGIAR is to be felt and made more visible.
"I see prosperity as multidimensional and encompassing. If we want greater rural prosperity in the world, no one discipline, no single intervention or institution is going to take us there," noted Manyong.
"It is a long way to go from when research is initiated to the final outcome aimed for, which is rural prosperity. There are so many boxes in between and many actors need to be involved. So establishing effective partnerships along the whole value chain is key," he explained.
Manyong further proffered six areas that he believes will help agricultural research contribute to rural prosperity by increasing agricultural productivity. (1) Shifting focus on whole farm families rather than just smallholder farmers, (2) Addressing biotic stresses, such as the new diseases that have arisen in the last decade attacking East Africa's three staple crops: maize, cassava, and banana, (3) Addressing abiotic stresses, such as climate change and soil quality, (4) Supporting enabling markets, policies and institutions, (5) Focusing on enhancing nutrition, and (6) Keeping a gender focus.
Also speaking during the panel session was Oscar Ortiz, Deputy Director General for research and development at the International Potato Center (CIP). He looked toward the exciting times ahead noting that CGIAR's big data is set to contribute in a major way to rural prosperity. "With big data, it will soon be possible to link the trait preferences in the staple foods of our target beneficiary stakeholder groups with the genes and markers for those desired traits," he said.
The issue of having an "end-user oriented" focus to research was also flagged by the CEO of Africa Harvest Biotech Foundation International, Florence Wambugu. "The CGIAR centers need to think about starting with a clear demand identified by farmers. It is important to ask who needs what we are producing. Next, think about the economics of scale (How will our products be scaled up? Who will do the scaling?)," advised Wambugu. Her thoughts were echoed by Peter Carberry, Deputy Director for research at the International Crops Research Institute for the Semi-Arid Tropics (ICRISAT).
"We have to focus on what our beneficiaries need. An example: Many of Africa's livestock are kept on lands where crops are grown. The residues of these staple crops are fed to the animals. We must pay attention to the whole farm environment. Another example is the significant rising market demand for red meat in West Africa: We should be investigating how the lands that support our crops can support this," noted Carberry to round up the panel discussion.
The panel was chaired by Prof. Doug Gollin, a development economist at the University of Oxford and member of the CGIAR ISPC and Chair of the Standing Panel on Impact Assessment (SPIA).
The Science Forum (SF) is a flagship event that was initiated by the ISPC in 2009 as a means to reach out to scientists and scientific communities largely external to CGIAR, but who could make important contributions to the CGIAR research portfolio and its objectives of reducing poverty, improving food security, human nutrition and health, and environmental sustainability.