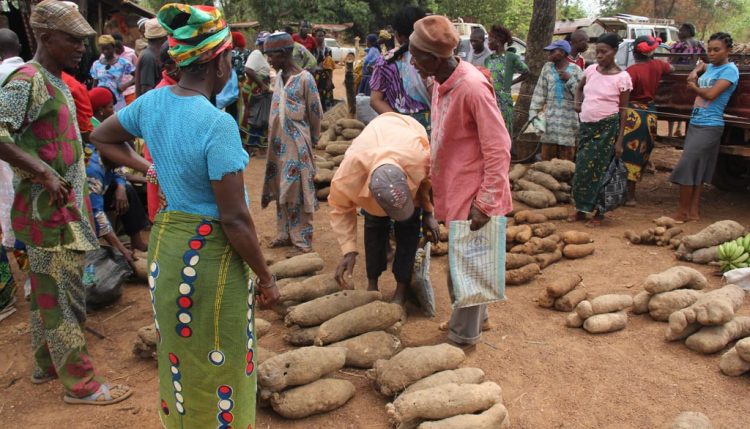 YIIFSWA facilitates a second farmer exchange visit to Illushi seed yam market
The foremost constraint of yam farmers is the unavailability and affordability of quality seed tubers.
To promote seed yam production and commercialization in Ghana and Nigeria, the Yam Improvement for Income and Food Security in West Africa (YIIFSWA) project facilitated its second farmer exchange visit to illushi seed yam market in Edo state on 14 April. The first visit was during the production season. This second visit focused on the marketing season and provided yam farmers and extension agents from Ghana and Nigeria the opportunity to see the vibrancy of the Illushi seed yam market and engage with local traders on seed yam production and commercialization.
The one-day visit began with a short opening forum followed by interaction with traders at the market. The visiting farmers were sensitized on production and marketing procedures as well as on the profitability of seed yam commercialization.
Illustrating the profitability of seed yam, Mr Amos, a seasoned producer and trader said: "Seed yam is a very profitable business. Last year I planted two hectares of seed yam with a production cost of around N500,000 (~$2,500). I have sold almost all the seeds I intended to sell for about N950,000. I recovered my cost of production and made a profit of N450, 000 (~$2,250). In addition, I have reserved enough seed to plant the next crop."
During the market tour, the visiting farmers noticed that traders sold seed tubers sorted by size and variety. The best tubers were well-shaped weighing about 500 g or more and sold for N40,000–N60,000 ($200–300) per set of 400. The lowest grade in terms of size weighing 20–50 g are sold for about N4000–N6,000 ($20-–30).
Commenting on the seed sizes at the market, a farmer from Salaga, Ghana, said: "It was surprising to find seed tubers as small as stones in the market; we usually give them to our children to play with or roast and eat because we consider them to be of no value. But in this market every size has value. A trader was selling them for N8000! ($400 per 400 tubers)."
Some of the visiting farmers were from communities where the production of small sized tubers is ridiculed and the sale of seed yam in their community markets prohibited by tradition. A farmer from the northern part of the yam belt of Nigeria, opined that yam is revered as a symbol of fertility and wealth in his community, therefore the size of yam tubers matters to the producers. A farmer who produces small tuber is subject to ridicule and is not considered as a real farmer.
The farmers from Salaga, Northern Ghana, attested that the sale of seed yam in the marketplace was not encouraged in their community. Farmers were also discouraged from buying seed tubers from markets because they believe that buying seed tubers from the market translates to buying another man's 'bad luck'.
According to Yam Seed System Specialist Beatrice Aighewi, "There is some truth in the misconception as seed tubers sold in markets are often of poor quality. Where mostly farmer-saved seed is used, farmers select the best out of their harvest to plant their field and the left-over which is sold is usually of lower quality, and will result in poor yields. Farmers who buy such seed tubers are disgruntled when they don't get value for money, hence the misconception. We are trying to correct this by sensitizing farmers on using the minisett technique for quality seed production and the viability of seed yam marketing to address smallholder farmers' access to seed yam.
"This exchange visit was organized because we recognize the fact that farmers learn best from each other. Illushi seed market is one of its kind; there is no other market in the region that is dedicated to seed yam marketing, and nothing but seed yam is sold at the market. Bringing farmers to Illushi to see the market and interact with traders helps to promote the production and commercialization of good quality seed yam."
The YIIFSWA Country Manager in Ghana, Dr Haruna Braimah, implored the farmers from Ghana to note the important role played by women who were the majority of traders at the market. He said in some communities, it is forbidden for women to handle seed yam.
Enthused by what they saw, the visiting farmers pledged to try out seed production using the minisett technique in their various communities this coming season and at marketing their produce. Speaking on the impact that YIIFSWA has made in his life, Mr Joy Ogunbiyi from Igbeti, Oyo State said, "YIIFSWA has changed my life for good. When YIIFSWA came to my community, I was skeptical of their intervention and I wasn't interested in yam farming. I was invited for the yam open day at IITA, Ibadan, and from there my interest in cultivating yam grew. Last year I also attended the first farmer exchange visit to Illushi, Idah, and Abuja. We visited the field of a woman who started her yam farm by cutting and reserving for planting all the head portions of yam tubers that she used to prepare meals for her family. Now she has about two hectares of yam which would not have been possible due to the high cost of seed yam.
"I instructed my wife to set aside every head of yam tuber she prepares for food. I have planted about 3000 heaps today. Because of my interest in yam production, I have been selected to represent yam farmers at the commodity board in Oyo State, and I am confident that I can do the job with the knowledge that YIIFSWA has given me. For that I can only say thank you, YIIFSWA."