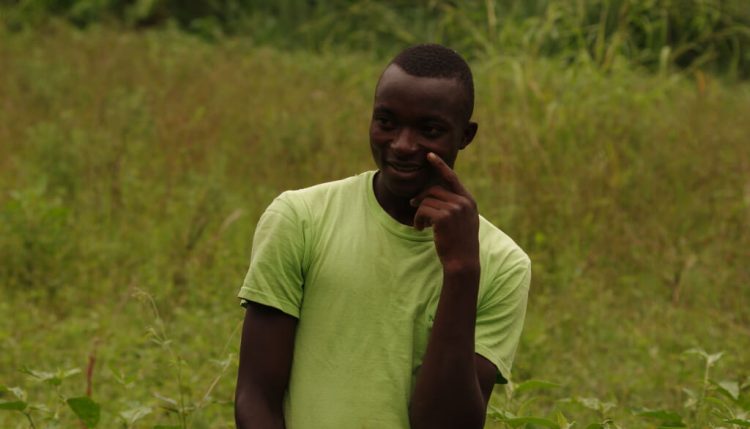 No small change: vegetable farmer cashes in on new varieties introduced by project in Tanzania
I produce vegetables because this is ready cash for me and my family," says a beaming Hassan Saidi; one of the beneficiary farmers in the activities under the IITA led Africa RISING-NAFAKA and TUBORESHE CHAKULA project for fast tracking delivery and scaling of agricultural technologies in Tanzania.
Hassan is 20 years old and lives in Maweni village, about 25 km east of Babati town in Tanzania. He has participated in the USAID Tanzania mission-funded project since its inception in October 2014 and is finally reaping the benefits of making changes to his farming practices based on the advice of the project team.
Like the other 160 farmers trained by the project team in April 2015 on vegetable garden establishment and maintenance, Hassan was also provided with an AVRDC vegetable seed pack with improved varieties to cultivate. His results have been impressive!
"Since the first training took place, I have reproduced my own vegetable seeds from the AVRDC varieties for the third time," he said. Out of the six varieties AVRDC has introduced to his village, he chose tomato (Tengeru 2010), African eggplant (DB3), and African nightshade (Nduruma).
"These are the best I have ever grown. I don't need any other crop. I was able to harvest 20 bags of African nightshade, where I previously produced only 1.5 bags. My tomato yields doubled, and I am still harvesting African eggplant from the seed that I sowed half a year ago. Since I started with AVRDC varieties eight months ago, my income increased by more than TSH 400,000 [US$190]," explains Hassan.
Asked about the secret behind his exemplary success, he says: "The reasons are many. Of course, the main reason is the improved varieties from AVRDC. But I also did other things like changing the spacing between seedlings. On the same plot [1/8 acre] where I sowed six lines of African nightshade before, I now sow only two lines. This is not to save seeds, but rather for disease control. As a result, I now face much lower disease pressure and can harvest African nightshade for more than three months! Previously I needed to stop harvesting African nightshade after only one month due to pests and diseases. I am now even able to supply African nightshade and African eggplant when other farmers have nothing in the field—and I hardly spray any chemicals on tomatoes, African eggplant, or African nightshade."
Hassan's success has also caught the attention of his neighbors. Now the shy youthful farmer has a thing or two to teach his older neighboring farmers. Perhaps his success can also just be the jolt his fellow youth need to get into farming. "My neighbors come to visit me regularly and are impressed by the crops they see on my plots," says Hassan.
To improve his farm harvest, Hassan also carries out his experimentation and comparison of vegetable varieties. "I have established a separate one-acre plot on my farm, where I only grow AVRDC varieties and compare them with the other local varieties grown on another plot in my farm. With the seeds I have produced from my first two harvests, I also grow seedlings in my nurseries, which are established like we were taught by the AVRDC team. Now my neighbors come and ask for seedlings and I give them some for free.
"This scaling project that brought success to Hassan supports other vegetable growers in Manyara, Dodoma, Morogoro, and Iringa regions. Since the project started in October 2014, the implementing team has introduced improved agronomic practices and vegetable varieties to 12 villages in the four regions, trained 230 farmers, and provided more than 800 farmers with seed packs of AVRDC improved vegetable varieties ready to be grown for home consumption and for sale in local and regional markets. A total of 230 farmers have been trained.