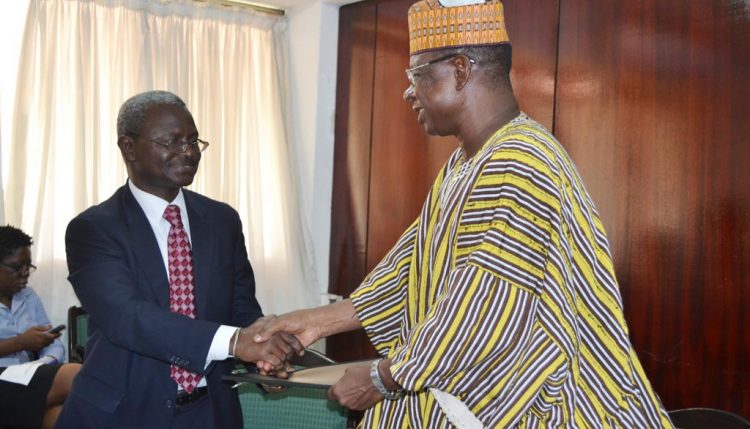 IITA and Ghana sign host country agreement
The Government of Ghana, realizing the immense benefits that will accrue to its people through collaboration with IITA, has secured Cabinet and Parliamentary approval to give legal status to the operations of the Institute in Ghana. Accordingly, IITA and the Government of Ghana signed a Host Country Agreement at the Ministry of Environment, Science and Technology Information (MESTI), Accra, Ghana on 12 May. The Agreement passed through the Legal and Consular Bureau of the Ministry of Foreign Affairs and Regional Integration, the Attorney General's Department, Cabinet, and the Parliament to bring it into conformity with relevant legislation.
The agreement was signed by the Deputy Minister of MESTI, Honorable Dr Alfred Tia Sugri on behalf of the Ghana Government, with Asamoah Larbi, IITA's Country Representative signing for IITA. It confers legal status and personality as well as privileges and immunities on the beneficial relationship in accordance with the Laws of Ghana; and provides key reliefs, including exemptions for communication and transportation controls.
The agreement also permits the Institute to partner with state agencies, nongovernmental organizations, and the private sector in sharing new knowledge on major staple crops.
In his address, the Deputy Minister noted that a stronger Ghana-IITA collaboration will bring significant benefits to farmers and the national economy, through building individual and institutional capacity in science and technology, improved farm productivity and profitability, household income and nutrition as well as consumer welfare.
On behalf of IITA, Larbi thanked the Government of Ghana for the agreement. He recognized the support of the Council for Scientific and Industrial Research, Ministry of Foreign Affairs and Regional Integration, Attorney General's Department, Cabinet and Parliament organizations and everyone who assisted to get the agreement approved by the Government of Ghana.