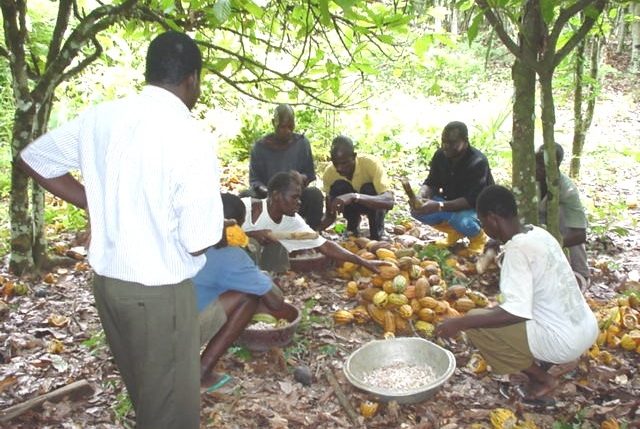 "Improved inputs will boost Nigeria's cocoa system": Outcome of USAID Nigeria/NEXTT training
The question of how to revive the glory days of Nigeria—one of the cocoa producing giants of the 1960s was at center stage during the just concluded USAID Nigeria/ Nigeria Expanded Trade and Transport (NEXTT) training of trainers workshop held at IITA, Ibadan.
According to a report by BusinessDay, the global cocoa supply from Nigeria witnessed a 59% reduction from US$666.4 million in 2014 to $270.7 million in 2015. Experts anticipate another decline of about 15% in production capacity which will further affect the values for 2016.
Currently fourth place in cocoa production behind Ivory Coast, Ghana, and Indonesia, Nigeria was celebrated in the 1960s as the highest producer and supplier of the crop. The downturn results from prioritizing the oil sector over cocoa production in the 1970s coupled with bad weather and an increased number of unreplaced, old and worn-out trees in the country.
"We experienced a long drought in 2014/2015 season and the weather has been very harsh. Most of the crops in the south-west of Nigeria were affected. It was only in Cross River that we had some respite, but yields in the south-west dropped," said Robo Adhuze, chief operating officer, Centre for Cocoa Development Initiative.
"Lack of funds coupled with inadequate government support which, even when in existence, hardly trickle down to us small farmers, making it difficult for us to adopt irrigation", said Oladokun Wasiu, a cocoa farmer in Iddo local government area of Oyo state.
The inability of Africa's biggest economy to sustain and improve its production of cocoa over the years has led to a sharp decline in productivity to below 0.350 tons per hectare, when other leading countries produce between two to five tons per hectare using improved varieties.
Ranjana Bhattacharjee, IITA Molecular Geneticist, joined other stakeholders at the workshop at IITA on 7-11 March, and made a presentation on 'Cocoa: The sweet and bitter truth about chocolate' and noted that the sector still suffers because of a poor input and network system. She also warned that a change in crude and indigenous practices is necessary to reverse the trend.
"Globally, the chocolate and cocoa industry are in crisis due to low productivity which is failing to meet a growing demand that is increasing by two percent annually…For Nigeria to get it right, then it must use high quality planting materials in the right environment, while management and market demands must all be linked and developed to increase cocoa yield."
Ranjana also noted the government's role in structuring the right linkages for all players in the cocoa system as vital to revitalizing the country's cocoa producing glory days.
Additionally, Lava Kumar, IITA Virologist, presented on the pest and disease threats to cocoa production and productivity in the changing environment and the need for developing climate-smart varieties to combat existing and emerging biotic and abiotic threats.