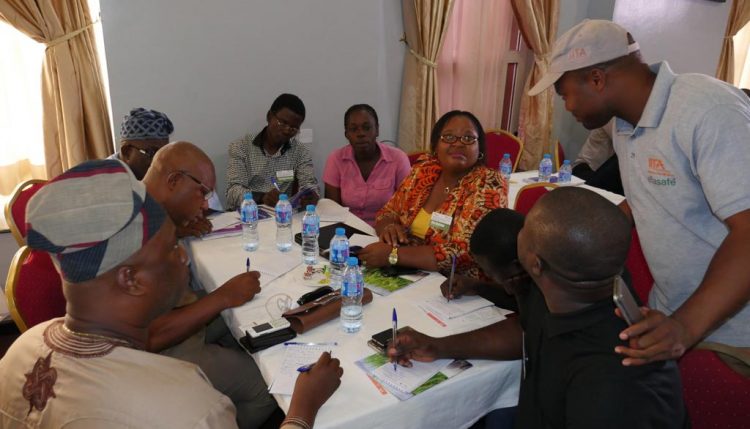 AgResults organizes Innovation Platform for implementers and buyers of Aflasafe™ maize
AgResults linked over 30 implementers of aflasafe-treated maize with potential buyers during its Innovation Platform workshop, held on 25 May, at the Best Western Hotel, Lagos, Nigeria.
Building on three years of success of the AgResults Project in private sector-led innovations through the "pull" mechanism, the workshop aimed to create an enabling environment for potential off-takers to link up with implementers, who produce aflatoxin-reduced maize. It focused on bridging the gap between these producers and interested buyers. Additionally, the workshop sought to address the common challenges militating against a sustainable market and adoption of aflatoxin-reduced maize.
Debo Akande, AgResults Aflasafe Pilot Manager, explaining what informed the platform, stated: "At an early stage of the project, we identified the disconnect between the producers of aflatoxin-reduced maize and the buyers as a key constraint. That disconnect is what we are addressing through the Innovation Platform today. What we have noticed is that once a buyer buys from an implementer and uses aflasafe-treated maize, the relationship continues beyond here."
In their presentations, Alejandro Ortega-Beltran, IITA plant pathologist, and Stella Denloye, former Director, Laboratory Services, NAFDAC, provided a comprehensive overview of aflatoxin and its effect on health, food security, and economic returns. Denloye commended IITA for its role in bringing the dangers of aflatoxin to the fore. "We have always known about aflatoxin. When I was in school in the 70s we studied aflatoxin but we just observed its effect on food. Now with the work IITA has been doing we know more about aflatoxin. We know the biological problems it causes," she stated.
The problem of awareness was a central point during the discussions. Participants discussed the need for more awareness that will inform the general public about the fatal dangers of aflatoxin and also the need for awareness geared specifically at improving market conditions for aflatoxin-reduced maize.
The workshop received positive reactions from the participants. They were impressed with the innovative format that allowed implementers to rotate and discuss with the each buyer present. Buyers who had been adversely affected by high levels of aflatoxin saw the program as a solution to their problems.
A buyer, Toyin Akin-Johnson, CEO of Creative Solutions Farm Ltd., a large-scale poultry farm, expressed his pleasure over the program and the initiative. "This is a very laudable program. I want to thank the sponsors for this." On the cost of the Aflasafe-treated maize, he noted: "On nominal terms it is more expensive but from my experience there is reduction in mortality, reduction in use of antibiotics and better growth rate. For all this, the premium paid for the Aflasafe-treated maize is justified. I don't see why I should change."
Similarly, Victor Oduguwa, a poultry farmer and CEO of Nation Feeders Nigeria Ltd., stated: "12 months ago I was looking for where to get aflatoxin-reduced maize. I have now been using Aflasafe-treated maize for a year, and it is cost-effective compared to the alternatives. Most of the maize I used in this financial year was bought from farmers in this room. I am grateful for this event today; it has linked us to 16 different Implementers who we are discussing with on how we can deepen this initiative."
AgResults is a multi-donor initiative incentivizing and rewarding high-impact agricultural innovation that promotes global food security, health, and nutrition.