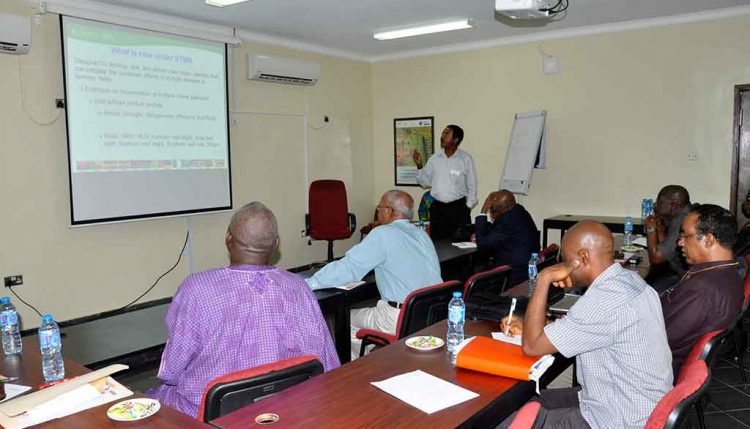 Stakeholders map out STMA workplan for West Africa
West African stakeholders involved in the implementation of the project Stress Tolerant Maize for Africa (STMA) convened at IITA, Ibadan, Nigeria, to take stock of the Drought Tolerant Maize for Africa (DTMA) Project and map out its 2016/17 workplan.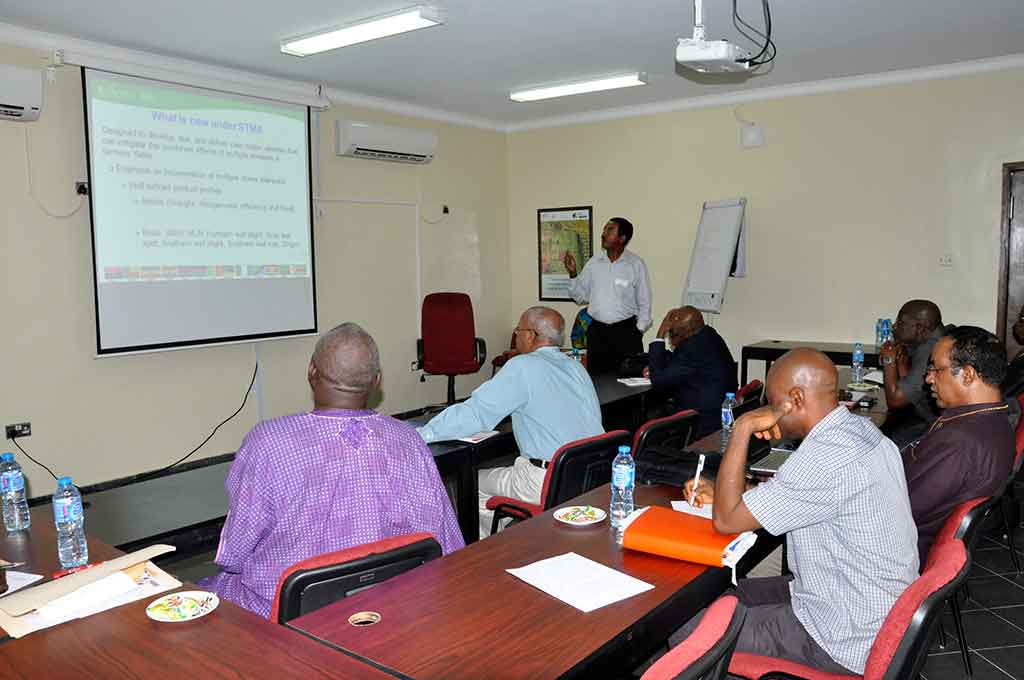 During the workshop, held 30 May−–2 June, participants from the West African target countries (Benin, Ghana, Mali, and Nigeria) appraised the concluded DTMA project and drew lessons to be adopted for the commencing STMA project.
"STMA will draw from the success and lessons of DTMA," said Tsedeke Abate, STMA project leader, at the beginning of the workshop. The DTMA project, which aimed to address drought and other constraints to maize production in sub-Saharan Africa, successfully developed and deployed over 230 hybrids and open pollinated varieties (OPVs). Millions of farmers benefited from the outputs of the project, which included backstopping national seed companies. In 2014 alone, DTMA provided seed for 5.7 million households, benefiting nearly 45 million people," Abate highlighted.
In her keynote address, Ylva Hillbur, IITA Deputy Director General, Research for Development, chronicled the significant role DTMA has had in catalyzing the establishment of seed companies in all the partner countries. Prior to the inception of DTMA there were a few or no seed companies in the partner countries. With a good number of outstanding intermediate, early, and extra-early maize hybrids developed and made available during the project, there has been an ever increasing demand for seed varieties, which has driven the emergence of seed companies in the subregion. Presently, there are about 150 seed companies established in Nigeria, 14 in Ghana, 10 in Mali, and 3 in Benin.
STMA will build on these successes and develop new maize varieties with resistance and tolerance to drought, low soil fertility, heat, pests, and diseases. The new stress tolerant varieties and hybrids are expected to increase maize productivity by 30–50% and provide 5.5 million smallholder farmers with improved maize varieties in the target countries. "The project will emphasize the use of innovative breeding tools and techniques, increased commercialization, and strong partnerships with public and private sectors partners," explained Abebe Menkir, IITA Maize Breeder.
Speaking on the strategies for certified seed production of stress tolerant maize under the STMA Project, Baffour BaduApraku, an IITA Maize Breeder, indicated that STMA aims to support and strengthen the various categories of indigenous STMA partner seed companies in West Africa in diverse ways. These would be in the form of funds for demonstrations and field days, breeder, pre-basic, and basic The IITA seed production, upgrading of irrigation and storage facilities, training in the techniques of seed production and seed business management, as well as technical backstopping.
The 4-day workshop closed with an award ceremony chaired by Robert Asiedu, Director, Research for Development, for IITA-West Africa, and Melaku Gedil, head of IITA's Bioscience Center. Ghana received the best team award for technology dissemination with Mali as the runner-up, while the best team award for maize breeding went to Nigeria with Benin Republic as the runner-up. Each country was awarded a prize in recognition of their successful work on the DTMA project.
The STMA project is coordinated by the International Maize and Wheat Improvement Center (CIMMYT) and IITA. It is funded by the Bill & Melinda Gates Foundation and the United States Agency for International Development.