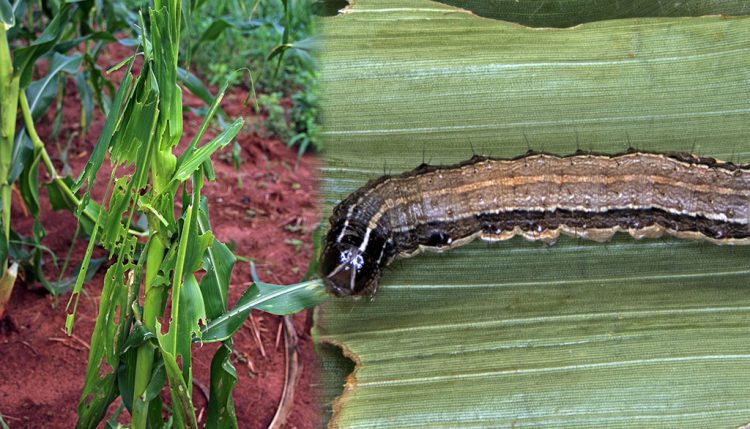 First report of outbreaks of the "Fall Armyworm" on the African continent
Following severe armyworm outbreaks in maize fields occurring simultaneously in several countries of West and Central Africa, the fall armyworm Spodoptera frugiperda (J.E. Smith) (Lepidoptera: Noctuidae)—an alien, invasive moth native to tropical and subtropical regions of the Americas—has been detected for the first time on the African continent.
First observations on armyworm attacks attributed to caterpillars of the genus Spodoptera were made on maize plants in the rainy forest of South West Nigeria in late January and in IITA maize fields in Ibadan and a farm in Ikenne.
Similar complaints were soon made in other countries of the subregion where the caterpillar populations had attained alarming levels later in the season in Benin, northern Nigeria, and also in Sao Tomé according to the FAO subregional office for Central Africa.
In Togo, concerns by maize farmers about severe armyworm outbreaks threatening food security in the Kara and Plateau regions were recently brought to the attention of a council of ministers. More recently the Federal Government of Nigeria has raised the alarm on the emergence of armyworm upsurges in maize fields in Edo and some South West states. These reports about concurrent armyworm population build-up in several West African countries support evidence for the emergence of a regional problem.
Of the 31 species included worldwide in the genus Spodoptera, seven species were until now known to occur on the African continent and six of these are present in West and Central Africa. Because of similarities in the damage and morphology between common species of the region, assistance for accurate diagnostic was requested from the Biodiversity Center at the IITA station in Bénin.
At first glance caterpillars of the new species can be confused with S. exigua (Hübner), the beet armyworm, which is also regularly present together with S. exempta (Walker), the African armyworm, in outbreak areas. However, the examination of different larval and adult characters supported the presence of Spodoptera frugiperda as a new armyworm pest in West Africa. At the same time, to align morphological with molecular techniques, larval and adult samples were sent to the Virology and Molecular Diagnostics unit at IITA, Ibadan, for DNA barcode analysis; results confirmed these findings.
Although the fall armyworm feeds on many kinds of food, with a host range of more than 80 plant species, it prefers to feed on grassy plants, in particular economically important crops such as maize, millet, sorghum, rice, wheat, and sugarcane. Other crops of major agricultural importance attacked by the pest include cowpea, peanut, potato, soybean, and cotton. In Brazil, the third largest maize producer in the world, S. frugiperda is considered the most important pest on this crop causing a damage estimated at more than US$400 million annually. Caterpillars of S. frugiperda seem to be much more damaging to maize than most other African Spodoptera species. They actively feed during the daytime.
Typical damage of fall armyworm on maize include young, skeletonized leaves and heavily windowed whorls dotted with large amounts of larval excrement. Larger caterpillars can cause extensive defoliation and even act as cutworms by entirely cutting the stem base of young maize plants. The damage to maize and other crops can be extensive when caterpillar populations are dense.
Pathways of the recent accidental introduction of the pest into West Africa are yet unknown but increase in international trade volume and easy air travel from one continent to another have amplified the phytosanitary risks of even multiple introductions. Similarly, the rates of quarantine interceptions of fall armyworm caterpillars at European entry points have significantly increased in recent years. As a result, the status of S. frugiperda was reassessed in 2015; it is now ranked as an A1 quarantine pest on the list of the European and Mediterranean Plant Protection Organization (EPPO).
With the fall armyworm's high spreading performance, large reproductive capacity, and wide host plant range, it is likely that the pest will soon be able to colonize most of tropical Africa.
Best-bet practices for the management of the pest include the use of insecticides, host plant resistance, and biological control. Control of the fall armyworm still largely relies on the use of synthetic pesticides. Interventions based on pest incidence thresholds are primarily meant to better protect young plants and the reproductive stages of maize. Therefore monitoring activities together with alternate applications of insecticides such as pyrethroids, carbamates, and organophosphates are recommended as an immediate measure. Early detection is essential, as the application of chemical insecticides is only efficient on young larval stages.
IITA is preparing guidelines for controlling this dangerous invasive pest, emphasizing monitoring for early detection in the field, and alternating the use of synthetic insecticides which have already been tested for their efficacy.