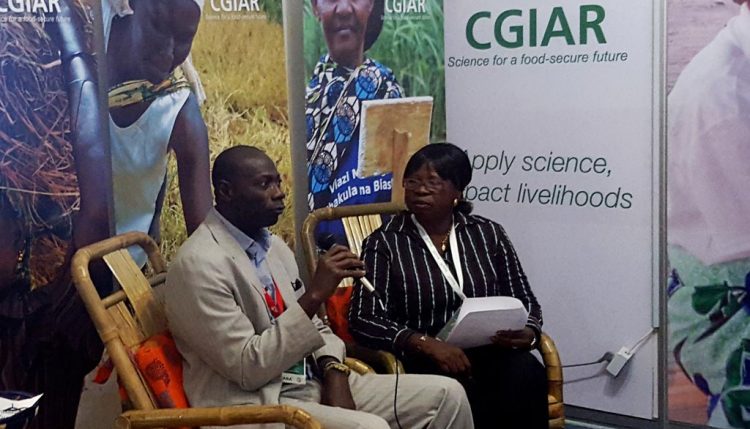 SARD-SC side event highlights contributions to food and nutrition security
In consonance with the theme of this year's FARA event, Apply Science, Impact livelihoods, the SARD-SC project, funded by the African Development Bank (AfDB) held a side event on the topic, SARD-SC contributing to food and nutrition security in Africa.
The purpose of the side event was to highlight the achievements of the project in its four mandate crops―maize, rice, cassava, and wheat, and to show how the development of their value chains is contributing to food and nutrition security in Africa and improving livelihoods.
In attendance were participants of the FARA event including Nteranya Sanginga, Director General, IITA; and Chiji Ojukwu, Director of Agriculture, AfDB; and other key personalities.
Kenton Dashiell, IITA Deputy Director General, Partnerships for Delivery, gave the introductory remarks, saying that the amazing performance of the SARD-SC project in precise implementation and recording laudable achievements within three years of its existence was not expected at the inception of the project. Roy Harold–Macaulay, Director-General of AfricaRice, commended the SARD-SC project for its achievements and said it was one of the few projects funded by donor money that has recorded some laudable deliverables, made impact, and achieved impressive outcomes. The SARD-SC project is an excellent project concerned with achieving deliverables and outcome and has done very well. The project has given rise to something much bigger than itself, Technologies for African Agricultural Transformation (TAAT), a new initiative of the AfDB to enable Africa to feed itself and foster economic development and social transformation. The project won an award and it is a good example of how four CGIAR centers can work together and achieve deliverables, outcomes, and impact."
Chrys Akem, the Project Coordinator, gave a brief overview of achievements and outcomes of the project such as new crop varieties developed, establishment of processing centers, capacity development, engagement of women in all aspects of crop value chain, and commercial banks getting involved in the maize commodity value chain activities. More importantly, he said, the achievements of the project have engendered shifts in some countries' agricultural policies in Africa.
Each of the commodity specialists made presentations on achievements of the commodities. Marie Yomeni, Cassava Commodity Specialist, talked about the benefits of innovation platforms (IPs) in fostering strategic alliances within the IPs, provision of improved quality of planting materials to farmers, reduction in postharvest losses, and mushroom production using cassava waste. The other three Commodity Specialists, Sam Ajala, Sidi Sanyang, and Solomon Assefa also presented the achievements on their respective crops.
AfDB's Chiji Ojukwu said that project activities should be demand driven. "We should be concerned about moving agriculture from on-farm to off-farm production; this is one of the issues we need to tackle to meet food security in Africa. We need to reengineer our research technology to achieve food and nutrition security in Africa."
The project showcased technological innovations, products, and achievements of the four commodity value chains during the two-day exhibition at the FARA event.