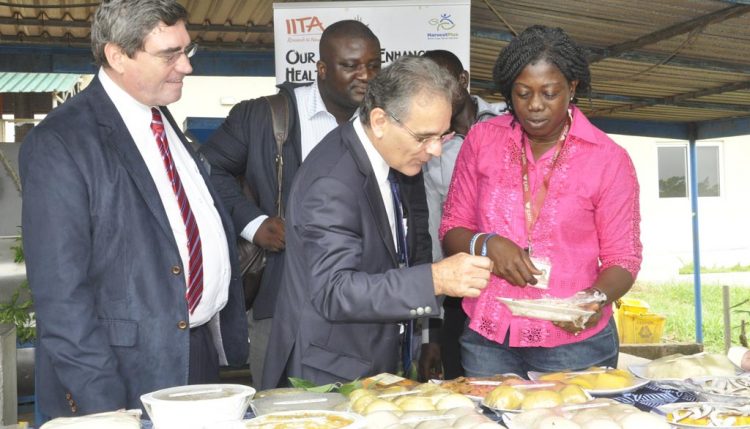 IRD, IITA explore opportunities for collaboration
A senior delegate from the Institut de recherche pour le développement (IRD) visited IITA, Ibadan, on 28 June to explore partnership opportunities between the two institutes.
The IRD Regional Director, Jean-Philippe Chippaux, was accompanied by Arnaud Dornon, Head of Cooperation and Cultural Affairs, French Embassy, and Martin Mbella, Secretary General of the French Institute for Research (IFRA), Nigeria.
In a meeting with IITA management, represented by Hilde Koper-Limbourg, Head, Project Administration Office, Chippaux outlined the objectives of IRD and its commitment to the development of developing countries through research, training, and innovation. He said that IRD has a significant mission to train young scientists from the global south.
"IRD works in the South, for the South, and with the South, leading scientific programs focused on people and their environment, to contribute to the sustainable development of southern countries", he stated. The visit, according to him, introduced IITA operations and identified areas of collaboration.
The group was taken on a tour of IITA facilities and introduced to the various IITA technologies. The tour included a stop at the Genetic Resources Center, where Badara Gueye, IITA tissue culture specialist and former IRD fellow, walked the group through IITA's leading role in preserving germplasm. At the Virology laboratory, the team learned about IITA breakthroughs and was shown how to utilize LAMP (loop mediated isothermal amplification) – a procedure developed at IITA for detecting viruses on the field. Other stops included the Pathology laboratory, NoduMax, the Cassava Improvement unit, and the Business Incubation Platform (BIP).
At BIP, the visitors discussed with the IITA Youth Agripreneurs (IYA) ways IYA continues to train and significantly change the perceptions about agriculture among youths, with profitable businesses being run in and outside of IITA. Impressed by the platform, Dornon expressed strong interest in exploring ways to work together and mentioned the possibility of a future partnership. As a follow-up to the visit, IITA and IRD will look at modalities for collaboration.