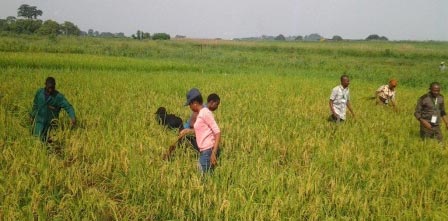 IITA Green Wealth Youth Agripreneurs undergo rice seed production training
Twelve members of the IITA Green Wealth Youth Agripreneurs underwent training on rice seed production conducted by the Africa Rice Center (AfricaRice), which was held from 9 to 13 May at the IITA-Ibadan campus. The participation of IYA in the training was aimed at strengthening the youth group's capacity in rice seed production as an agribusiness enterprise.
The members of the IYA that underwent training included Adeoluwa Aduragba, Adewole Adedamola, Adigun Modinat, Oladokun Ibukunoluwa, Hassan Halimot Oginni Yetunde, Oni Hammed, Oni Waheed, Oyeniyi Oyelekan, Oyebamiji Oluwafemi, Ojerinde Hammed, and Chianu Andrew.
The training workshop on rice seed production was facilitated by AfricaRice under the Nigeria component of the USAID Seed Scaling Project. Apart from the IYA members, other trainees included 30 representatives from 10 seed companies and a Youth Corps member serving with AfricaRice.
Over the years, Nigeria has been dependent on importation of rice to augment local production capacity. Owing to the economic challenges in the country, it has become necessary to develop local production capacity which has the long-term benefit of provision of employment opportunities within the rice value chain. This was the impetus for IYA to go into rice seed production.
The Green Wealth Agripreneurs is now scaling up from its demonstration phase with strong backstopping from AfricaRice.