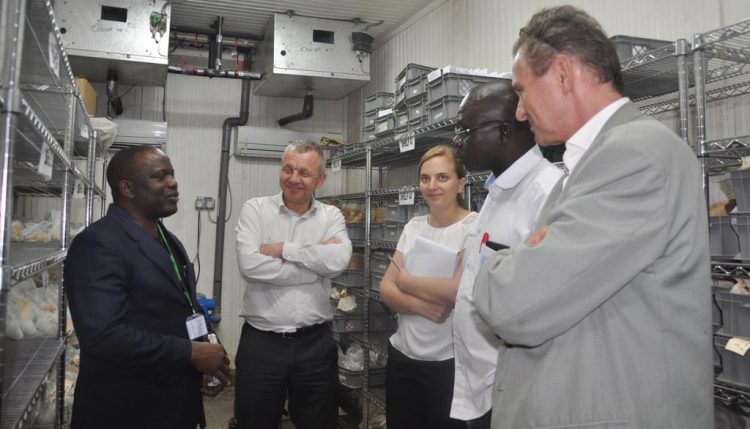 Nestlé, IITA look to strengthen partnership
Top management from Nestlé's first Research and Development (R&D) center in sub-Saharan Africa paid an official visit to IITA Headquarters in Ibadan, Nigeria on 25-26 July to explore further partnership opportunities between the two organizations. The delegation, from Abidjan, Côte d'Ivoire, was led by Oliver Chmiel, Head of the R&D Center. He was accompanied by Chiekh Mboup, Head of the Agronomy and Plant Science Department, and Melanie Polman, Plant Science Laboratory Manager.
The visit comes at the heels of IITA's renewed emphasis on partnerships for delivery and private sector engagement―an emphasis that ensures improved delivery of research outputs and agricultural technological solutions.
"Traditionally IITA has been a research organization. Over the last few years we have been evolving more into delivery extension and development. Because of that we decided to have a directorate with the name Partnership for Development. It has been my passion to see research delivered to where it can be used," explained Dr Kenton Dashiell, DDG of the Partnerships for Delivery (P4D) directorate, who welcomed the delegation.
The partnership with the R&D center will build on IITA's long history of working with Nestlé. In Nigeria, IITA continues to work with Maggi (Nestlé's leading seasoning cube) in the area of cassava production.
The delegation also met with IITA scientists and unit heads before proceeding on a comprehensive tour of the IITA-Ibadan campus. Present at the meeting were: Ranjana Bhattacharjee, Molecular Geneticist, Frederick Schreurs, Chief Executive Officer BIP, Michael Abberton, Head of the Genetic Resources Center, Peter Kulakow, Cassava Breeder, Christian Fatokun, plant breeder, Alejandro Ortega-Beltran, plant pathologist, and David De Koeyer, project leader for AfricaYam.
Speaking to the group, Chmiel highlighted Nestlé's Created Shared Value initiative (CSV) and the importance of sustainability in all their practices. "If I presented this to you 15 years ago, I would not be talking about CSV; however, we cannot last another 150 years without incorporating sustainability into our business model," he said.
He further stated the aims of the R&D Abidjan center were to double the impact of organic growth in Africa in five years, reduce food waste along the value chain, and improve nutrition. Possible collaboration with IITA in the areas of alternative protein products and the use of biofortified and improved crop varieties were discussed.
The Nestlé delegation concluded their 2-day visit with a tour of the Business Incubation Platform (BIP), the Aflasafe laboratory, and the IITA Youth Agripreneurs.
"This visit is only the beginning" noted Chmiel, "we will definitely come back to further discuss modalities for collaboration between the R&D Center and IITA."