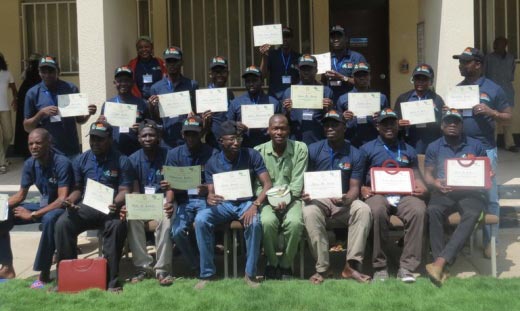 IYA concludes training for Borno State youth
The "Putting nitrogen fixation to work for smallholder farmers in Africa" (N2Africa) project, in collaboration with the IITA Youth Agripreneurs (IYA), has concluded training for the fifth batch of selected youth in the north of Nigeria.
The trainings commenced on 3 September 2014 and were held through about eight workshops convened at different periods in Kano State as well as in the Biu and Kwaya Kusar local government areas of Borno State.
It has empowered 45 spray service providers, as well as 127 young men and women in the sustainable agronomic requirements for the production of cowpea, soybean, and groundnut. The beneficiaries have also been equipped with the necessary skills for a successful venture in the grain legume value chains, as well as having their entrepreneurship skills in agribusiness developed.
The N2Borno youth training was brought to a close on 28 July in a ceremony that was attended by scientists, members of staff, and successful pioneers of the first set of the youth training.
"Make efficient use of the training and be good ambassadors of Borno State and Nigeria at large" said IYA's Ajibola Olaniyi who represented Molayo Owoeye, Head of the Capacity building unit, IYA.
Mercy Wakawa, MD Confianza Global Resources and a member of the pioneer Borno youth training shared her experience and success story of how she started and how she has employed four other youth.
Nkekki Kamai, Coordinator of the N2Africa Borno State Project, in his address appreciated the Borno State government for training her youth and also thanked DG Sanginga and Alpha Kamara, IITA scientist, for their support which led to the successful completion of the training.
"The main idea is to directly target 200 unemployed youth for capacity building and empowerment, and work towards the projection that each of the empowered youth will, on average; create job opportunities for at least ten other youth leading to the set milestone of job opportunities in agribusiness for at least 2000 youth in Borno State. Currently, I am happy to report that 85 out of the total 127 youth trained and empowered to date, are engaging in agribusiness activities under this intervention. This is taking place in 10 value chains which the Agripreneurs have independently chosen, out of the 20 identified business opportunities in the grain legumes value chain. All of these businesses also have the potential to create direct and indirect job opportunities for other youth and women," said Kamai.
Kamara in a brief keynote address also congratulated the youth for coordinating themselves well and for successfully completing the training. He encouraged them to make good use of all they had learnt during the course of the training. An award of excellence was presented to DG Sanginga by Yagana Bukar Shehu, a representative of the youth, for his fatherly support for the Borno Youth.
N2Africa Borno State project, in the words of Borno State Honorable Commissioners for Agriculture & Rural Development and Poverty Alleviation & Youth Empowerment; "is an excellent initiative that has come as a child of circumstance, but at an auspicious time in the overall interest of our people, particularly smallholder farmers and the youth. Engaging young men and women in agricultural value chains and entrepreneurship is a real panacea out of hunger and poverty."
Certificates were issued to the participants and goodwill messages where received from ICRISAT and IAR.