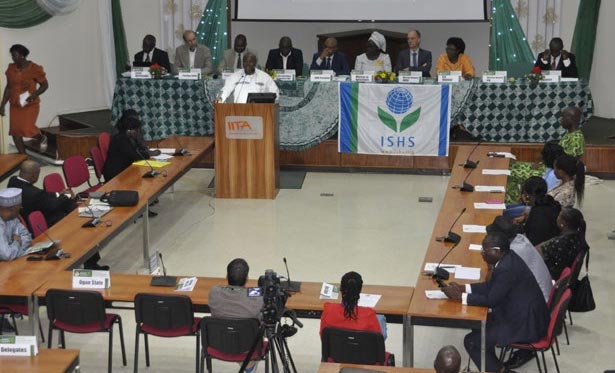 3rd All Africa Horticultural Congress held at IITA, Ibadan
The Nigerian Society for Horticultural Sciences, under the aegis of the International Society for Horticultural Science (ISHS) hosted the 3rd All Africa Horticultural Congress (AAHC), at IITA, Ibadan, held 7–12 August.
With the theme "Horticulture for improved livelihoods", the congress aimed to strengthen the voice of African agriculturists in their respective academic, research, and economic communities and industries. It featured expert plenary speakers, who shared their expertise in their various fields, spanning biotechnology, climate change, pest and disease management, and gender, among others.
Speaking at the opening ceremony, Nteranya Sanginga, IITA Director General, challenged the Congress participants to think about ways Nigeria could improve in vegetable production and reduce importation. He said that IITA currently has one hectare dedicated to horticulture, and invited horticultural experts to partner with IITA and expand its horticultural program. "Teach us how to expand that one hectare, to 10, a hundred hectares". Nigeria is the biggest importer of tomato purée and vegetables, Sanginga disclosed.
Chiji Ojukwu, Director, Agriculture and Agro-Industry Department, African Development Bank (AfDB), Côte d' Ivoire, gave the keynote address. Ojukwu said that the objective of the Horticultural Congress aligns perfectly with the vision of AfDB, in making the horticulture value chain an important sector and achieving transformation in Africa. His presentation focused on AfDB's Feed Africa initiative. Feed Africa is one of the AfDB priority areas, which strives to transform African agriculture into a globally competitive, inclusive, and big-oriented sector that creates wealth, generates gainful employment, and improves the quality of life of Africa. One of the aims of the project is to increase Africa's share in the global horticulture industry. "Forty percent of Africans live on $1.25 a day, and if nothing is done in 10 years, the number will rise to 500 million living below poverty line" he said.
"We live in a very unhealthy world. Billions of people suffer from malnutrition, and billions are overweight," Marco Wopereis, Director General, World Vegetable Centre (AVRDC) stated during his keynote talk at the congress. He told the congress that undernutrition affects the health, mental, and physical potential of children. Its effects are often irreversible. He went on to explain that undernutrition can be alleviated by fortification, vitamin supplements, and a more balanced diet that includes vegetables. A vibrant horticultural sector can help reduce malnutrition in Africa.
Also speaking at the event, Krishna Kumar, Deputy Director General, Indian Council of Agricultural Research, further reiterated the role of horticulture in eliminating malnutrition. He stated that there are so many branches of agriculture, but Horticulture is the most economical, ecological, and most viable for nutrition, economic livelihood, and environmental security. "Respect nature, respect the laws of the land, respect soil fertility, respect pollinators", he said.
The Congress brought together more than 150 scientists involved in diverse horticultural endeavors in Africa; and provided a platform that encouraged a spirit of communication, collaboration, and sharing of knowledge for the benefit of Africa.
AAHC is an initiative of the ISHS. It is a platform created to facilitate interaction among the different sectors of the horticulture industry in Africa, build synergies, and ultimately, unleash the underexploited potential of horticulture in Africa. The AAHC is organized on a rotational basis in the subregions of Africa.