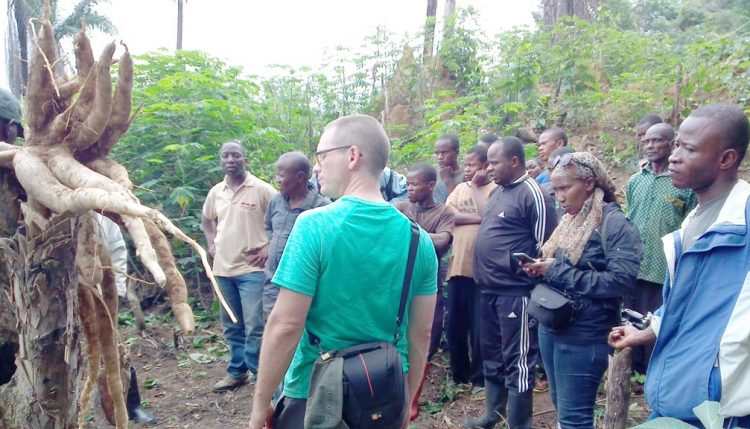 AWF Chief impressed with IITA's work on Intensification for Forest Conservation in DR Congo
Jeff Crisfield, Chief Operating Officer (COO) of the African Wildlife Foundation (AWF) based in Washington, D.C., visited IITA's sustainable agricultural program in the Maringa-Lopori-Wamba (MLW) landscape in the Equateur Province of DR Congo, accompanied by Charly Facheux, AWF Vice President for Conservation Projects; Jimmiel Mandima, AWF Director of US Government Relations; Brian McBrearity, AWF Managing Director of African Conservation Schools; Grace Wairima, AWF Senior Field Communications Officer; Hugues Akpona, AWF DRC Landscape Manager; Anderson Kehbila, IITA Systems Intensification Project Coordinator; and Tata Hangy, IITA Research Associate.
Jeff witnessed the impact of sustainable agricultural intensification for forest conservation, a program implemented by IITA with financial support from USAID through AWF. "I have been involved in programs like this for years," Jeff explained. "I am very impressed by this one. This is the sort of thing that AWF and its partner IITA should be doing – it is about improving the life and the wellbeing of people while at the same time conserving biological diversity."
During his visit, Jeff met with Baka Hermes, the president of a farmer association – Motema Pembe. Hermes, now fully committed, organized a group of 30 farmers from his village and floated the idea of community agricultural intensification, which was galvanized into action. Best agronomic methods were demonstrated and then implemented. The results were beyond expectation. With cassava fresh root yield exceeding 35 tons per hectare, farmers like Hermes are well on their way to turning around their fortunes on the same piece of land, thus conserving the forest and associated biodiversity. After the visit, the AWF team returned to Kinshasa for further deliberations on the way forward.