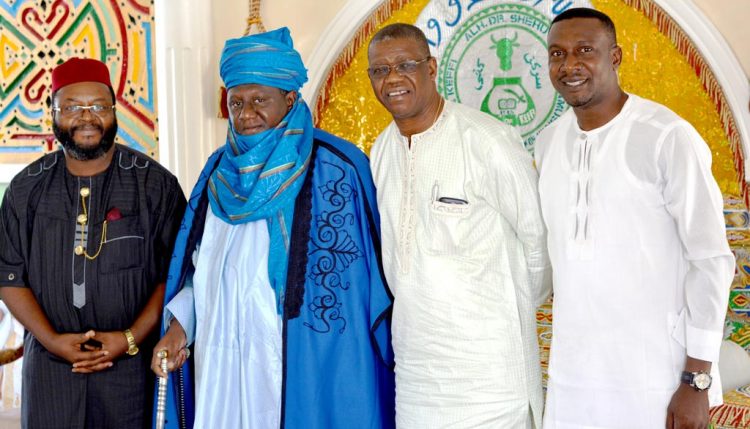 Emir of Keffi, Chun-Mada of Akwanga hosts IITA Abuja, offers hectares of land and exhibition opportunity
The Chun-Mada of Akwanga in Nasarawa State, Chief Samson Gamu Yare has promised to offer hectares of land to IITA for Demonstration Trials, as well as an opportunity for the Institute to exhibit their proven agricultural technologies to his clan.
The First-class Royal Father disclosed this when he received a delegation from IITA in his palace in Akwanga, Nasarawa State, alongside IITA's former staff member and former Polish MP, Honorable John Abraham Godson who led the delegation. Hon Godson was listed among the 100 Most Influential People in Africa in 2015 by New African Magazine. IITAs team comprised the IITA's Head of Station in Abuja, Gbassey Tarawali and the Communication Officer, Obinna Chukwuezie.
The Akwangas are predominantly Mada Eggon people. Akwanga is also the agricultural hub of Nasarawa state with a very large land mass. The city is about 100 km from Abuja.
Explaining the purpose of the visit to their host, Tarawali indicated IITA's keen interest in the vast extent of arable land in the Chiefdom and willingness to partner with them, especially in the area of securing land, the supply of improved/high-yielding crop varieties, and management practices of IITA's mandate crops, agribusiness, and mechanization, among others.
Responding, the Royal Father said he was "highly elated by the visit and the interest of IITA in Akwanga." Continuing, "Akwanga is the best place to do farming in Nasarawa State. Whatever you need is here—arable land, manpower, and supporting institutions. Whatever you want to do—Demonstration Trials, Seed Multiplication, and any other activity you may have in mind, you can do it here, starting from my personal farm. When I see the success, then whatever land you need can be provided to you, he said.
While the members of the IITA delegation were there, the Royal Father invited the Local Government authorities to be part of the interaction. In the end, he mandated them to fix a date when IITA can exhibit their products for display to farmers and extension workers in the whole Local Government Area.
In the same vein, the Emir of Keffi in Nasarawa State, Alhaji Dr Shehu Chindo, Yamusa III also hosted the IITA delegation in his palace in Keffi. In response, the royal father said, "This is your home. Feel free to come and promote anything you want us to start. In fact, you can start Demonstration Trials in my personal farm. We are happy that you want to help the people of Keffi Emirate in food production. Without food we cannot survive, and food is very expensive now. Our people need more food. I need more food to feed the 80 people in this palace that I inherited as the Emir."
"I regret that I did not study Agriculture in the university, the royal father said while narrating the huge potentials in farming, which he had seen for himself in Europe, Asia, America, and a host of other places. Keffi is about 44 km from Abuja, and this proximity to Abuja's market, makes it ideal for selling farm products.