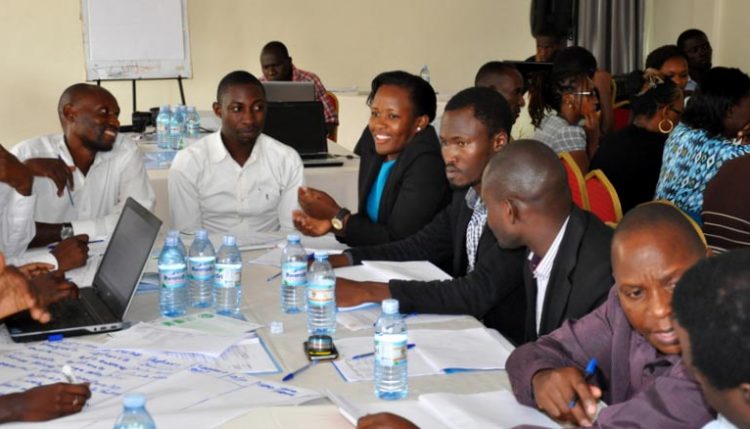 National learning alliance gives input to Uganda's Strategic Program on Climate Resilience
Smallholder farmers dominate the agricultural sector in Uganda and are most vulnerable to climate change because of poverty and reliance on natural resources. Uganda's agriculture is rainfed and highly vulnerable to climate change.
"Low use of external inputs like fertilizers and improved seed, poor land management, and high postharvest losses have further reduced the sector's productivity," explains Steven Muwaya, the coordinator of Climate-smart agriculture and sustainable land management at the Ministry of Agriculture, Animal Industry and Fisheries in Uganda.
However, initiatives to reduce vulnerability and facilitate integration of climate change adaptation into relevant new and existing policies, programs, and plans are now being implemented in the country.
Uganda's Climate Change Department, under the Ministry of Water and Environment, in collaboration with the NGO Environmental Management for Livelihood Improvement and the CGIAR Research Program on Climate Change, Agriculture and Food Security (CCAFS) project on Policy Action for Climate Change Adaptation (PACCA), convened stakeholders on 3 August in Kampala to provide input into the development of the country's new Strategic Program on Climate Resilience.
While speaking on behalf of the Commissioner, Muhammad Semambo explained that the Climate Change Department is a coordination unit and a focal point for the United Nations Framework Convention on Climate Change (UNFCCC), but tackling climate change is a collective responsibility of all stakeholders.
The workshop, which was organized under the auspices of the Climate Change Learning Alliance, brought together a wide variety of stakeholders, including policy makers and implementers, civil society organizations, private sector, academia, researchers, farmers, and the media to build capacity on climate resilience.
Uganda was selected last year by the Climate Investment Fund (CIF) as one of the second round of countries to prepare the Strategic Program on Climate Resilience under the global Pilot Program for Climate Resilience, which aims to assist developing countries to mainstream climate resilience into core development planning for transformation at scale, while complementing other development initiatives.
Early this year, CIF approved a grant of US$1.5 million to support the Government of Uganda in preparing the Strategic Program on Climate Resilience, in parallel with the Forest Investment Plan, with the Climate Change Department and the Forest Sector Support Department as focal points, respectively.
A first draft of the Strategic Program on Climate Resilience – identifying key vulnerabilities, impact, and potential investment projects – was prepared after mapping and analyzing gaps in relevant climate change projects and interventions in addition to consulting key state and non-state actors.
During the workshop, participants discussed actions to supplement climate resilience efforts and provided input for the further development of the Strategic Program on Climate Resilience.
The PACCA project is led by IITA and works with the International Center for Tropical Agriculture (CIAT), the World Agroforestry Centre (ICRAF), the International Livestock Research Institute (ILRI), Bioversity International, and local partners in Uganda and Tanzania. The goal is to link policies and institutions from national to local level for the development and adoption of climate-resilient food systems in Uganda and Tanzania.