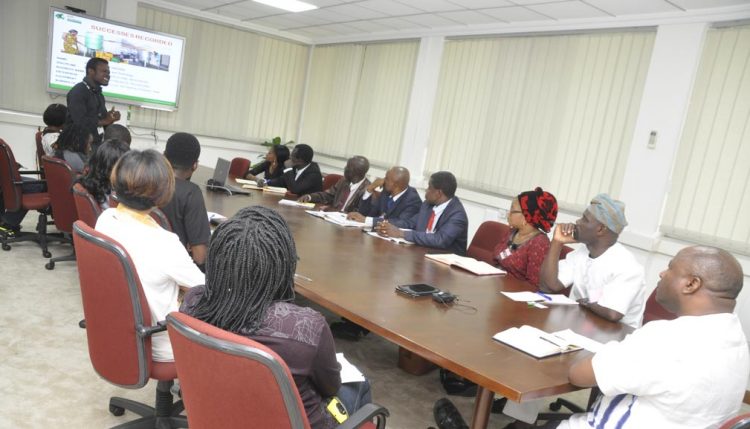 IITA, Ministry of Youth & Sports, Ministry of Agriculture to promote youth agribusiness in Oyo State
In a tripartite agreement with the Ministries of Youth & Sports, and Agriculture in Oyo State, IITA will be hosting a workshop that will see IITA Youth Agripreneurs (IYA) critically engage and train youth corps members serving within the state. This was unveiled during the official visit of the Commissioner of Youth & Sports, Yomi Oke, to IITA-Ibadan on 10 August.
The Commissioner was accompanied by his Permanent Secretary, Amidat Agboola, and representatives from the Ministry of Agriculture, Oyo State.
Welcomed by IITA DG Nteranya Sanginga, the Commissioner zeroed in on the problem of youth unemployment in Nigeria and the State. He expressed the need for a program that will develop youth capacity in agriculture to curb rising unemployment rates. His sentiment echoed the words of the Governor of Oyo State, Senator Abiola Ajimobi, who in his last visit to IITA stated: "Oyo State has to go back to the land, to agriculture. This is not a choice anymore".
IYA and its subsidiary, Green Wealth Agripreneurs (GWA), gave a presentation to the visitors highlighting the successes of the platforms and the ways they continue to train and significantly
change the perception about agriculture among the youth, with profitable businesses being run in and outside of IITA. Significantly impressed by the platforms, the Commissioner said:
"We need to leverage on these opportunities. We need to find ways to plug in to what is being done here. We hope our presence here can  close the existing gap between us and IITA."
An agreement to organize a workshop that empowers youth through agribusiness was the outcome of the meeting. The workshop is expected to have thousands of youth trained under the IYA platform by the Agripreneurs themselves. The training is aimed at developing core competencies and entrepreneurial skills that will help the participants identify opportunities in agribusiness. "It will be a comprehensive workshop where youth talk to youth. When the youth communicate with each other it makes a difference," stated Sanginga. The workshop will be held later in the year.