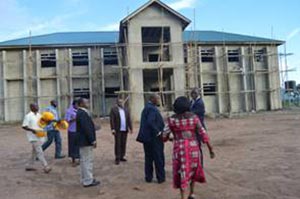 Advanced AfDB presidential party visits IITA Abuja Station
A two-member delegation comprising the Regional Director of the African Development Bank (AfDB), Dore Ousmane,  and the AfDB Chief of Staff and Director of Cabinet, Sipho Moyo, were at the IITA Abuja Station on  8 September. The purpose of the visit was to assess the activities of the IITA Youth Agripreneurs (IYA), Abuja, see the progress of the construction work at the Youth Training & Processing Center, and also review ongoing youth development programs being implemented at the Station, in preparation for the visit of the AfDB president, Akinwumi Adesina later this month.
The delegation was received by the Head of Station, Gbassey Tarawali.  IYA-Abuja members made a presentation on their activities, emphasizing plans of owning profitable agribusiness ventures in future.
The presentations impressed the visitors who in turn expressed satisfaction with the enthusiasm of the Agripreneurs towards agribusiness as a viable solution to the problem of youth unemployment in Africa. They also enquired about the status of the business plans of the IYA members for mobilizing resources from the AfDB-funded ENABLE Youth project. In their responses, the IYA members affirmed that their business plan development was in progress and will be ready for review and submission to commercial banks by October, 2016.
Ousmane and Moyo appreciated IITA's Management for the quality mentorship, enthusiasm and entrepreneurial quest that has been instilled in the Agripreneurs.
The team was taken on a tour around the Station where IYA members provided detailed explanations about their plots and fish ponds.
Ousmane will visit the Station with Amadou Oumarou, Task Manager of the ATASP-1 Outreach Program, to develop a detailed plan for the President's visit.