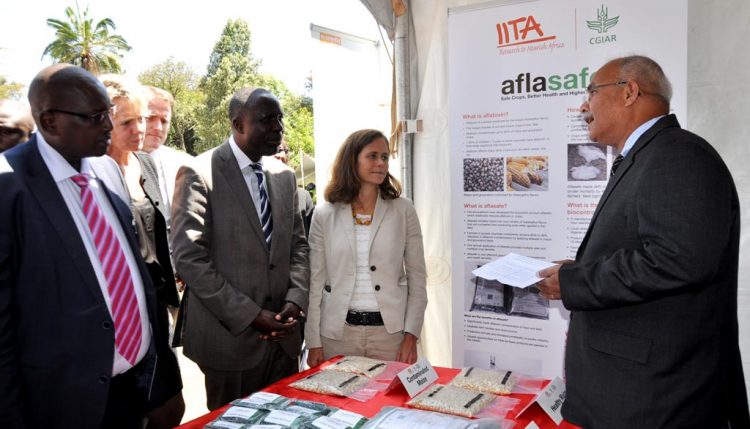 IITA showcases aflasafe KE01™ and transformation research to top officials of USAID and Kenya Agriculture Ministry
IITA was one of the three CGIAR centers invited to showcase its technologies/research efforts to top officials from Kenya's Agriculture Ministry and USAID that included the Cabinet Secretary, Ministry of Agriculture Livestock and Fisheries, Hon. Willy Bett and the USAID Assistant to the Administrator Bureau of Food Security, Beth Dunford.
This was at an event at the Kenya Agricultural and Livestock Research Organization (KALRO) in Nairobi, Kenya, to launch a National Horticulture Traceability System for the country held on 12 September.
IITA presented two technologies which had received support from USAID. These were aflasafe KE01™, an innovative technology to control aflatoxin in Kenya, and transformation of banana for resistance to banana Xanthomonas Wilt (BXW).
At the event, Eliud Kiplimo Kireger, Director General/CEO of KALRO, noted the complementary relationship between CGIAR centers and KALRO in developing and transferring beneficial technologies to farmers. He further praised the two technologies showcased by IITA which he said were addressing serious challenges facing the farming communities in the country and East and Central African region.
"Aflasafe KE01™ is a revolutionary biocontrol product, which consistently reduces aflatoxin in treated food and feed by 80–99%. The technology was first developed by the United States Department of Agriculture–Agriculture Research Services (USDA-ARS). IITA in partnership with USDA-ARS and support from USAID has led in the efforts to adapt it to Africa. In Kenya, IITA and KALRO have developed a local product called aflasafe KE01™ and are putting up a modular plant for its manufacture in KALRO Katumani. The plant will also serve the whole East African region," he said.
"IITA in partnership with KALRO and Uganda's National Agriculture Research Organization (NARO) is developing transgenic banana varieties resistant to bacterial wilt disease, which is a deadly disease devastating banana production in Kenya and East Africa. KALRO with IITA will be testing these banana in a confined field trial in Busia soon," Kireger said.
Kenya is a hotspot for aflatoxin contamination with reported multiple aflatoxicosis outbreaks often resulting in fatalities. For example, in 2004 over 100 people in the country died after consuming highly contaminated maize.
The team from IITA was led by Director General Nteranya Sanginga; Deputy Director General for Partnership for Delivery Kenton Dashiell; Kenya Country Representative and Deputy Director for Eastern Africa Leena Tripathi; IITA's Principal Pathologist and Aflasafe Project Leader Ranajit Bandyopadhyay; and Aflasafe Project Leader for East Africa Charity Mutegi. Afterwards IITA and KALRO signed a Technology Transfer Agreement on aflasafe Ke01™.