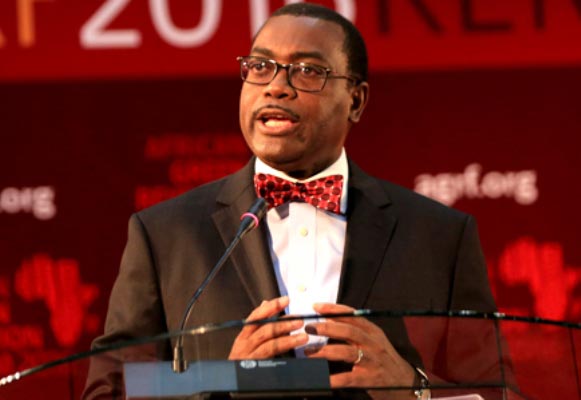 TAAT & ENABLE: major initiatives in the Africa Transformation Agenda
AfDB President Akinwumi Adesina pledged US$24 billion to mobilize the private sector to support the transformation of the continent's agriculture sector over the next 10 years. This also includes initiatives such as the Technologies for African Agricultural Transformation (TAAT) and the Empowering Novel Agri-Business-Led Employment (ENABLE) Youth initiative. IITA is a major partner and implementer in the two initiatives.
"TAAT is a bold $800 million effort across Africa to scale up available technologies to transform key agricultural value chains. It is a public–private partnership linking governments, international agriculture researchers—IITA is helping us spearhead this—national and regional research institutions, the private sector, and farmers," Adesina said during the event's opening ceremony.
The well-represented IITA team was led by IITA DG Nteranya Sanginga, and Ylva Hillbur and Kenton Dashiell, IITA Deputy Director Generals for Research and Development and for Partnership for Delivery, respectively. Other IITA staff present were Chrys Akem, SARD-SC Project Coordinator; Kristina Roing de Nowina, Head of the Project Administration and Development Unit (PADU); and Laurence Jassogne, a Systems Agronomist based at IITA- Uganda.