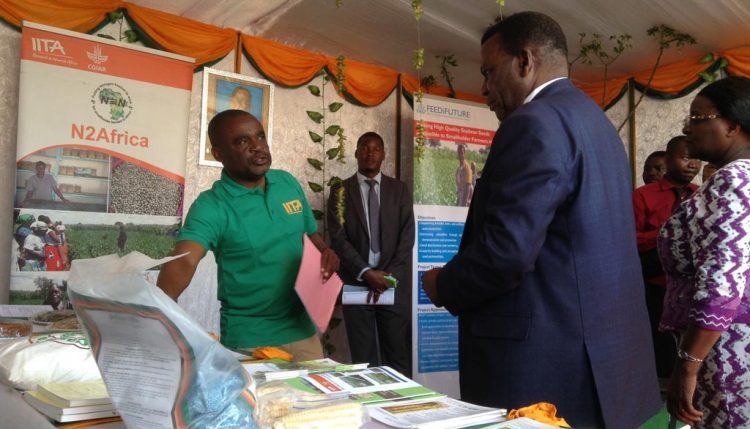 IITA showcases R4D work at 2016 Malawi agriculture fair
IITA was one of over a hundred organizations that showcased their work and products at the recent 2016 Malawi Agriculture Fair held 8 to 10 September in Blantyre with the theme Climate Smart Agriculture.
The fair was opened and keynoted by Malawi's Minister of Agriculture, Irrigation, and Water Development, George Chaponda, who expressed his appreciation at the work being done by the Institute in the country when he came to view the IITA exhibition pavilion.
"I am impressed with the work you are doing, and I would like to encourage research centers like IITA to continue complementing efforts of the government," said Chaponda. He was briefed on IITA's work in Malawi by Alexander Nganga, IITA Research Technician.
As IITA was allocated stand no. 1, the Institute's research-for-development (R4D) exhibit was given prominence, with more than 700 people estimated to have visited the stand during the 3-day show.
During the fair, IITA highlighted its various projects and programs in Malawi. They included the N2Africa (Putting Nitrogen Fixation to Work for Smallholder Farmers Growing Legume Crops in Africa) Project being funded by the Gates Foundation, the Malawi Improved Seed Systems and Technologies (MISST) Soybean and Aflasafe projects being funded by USAID's Feed the Future Initiative, the new Cassava Commercialisation project which is being funded by the German International Cooperation (GIZ), and its cassava breeding research.
In line with the theme of the fair, IITA also displayed climate-change resilient crops and technologies that the Institute is promoting through its many projects such as improved soybean and cassava, inoculants, and Aflasafe.
In addition, IITA also showcased various value-added products from soybean and cassava such as soybean milk, cakes, soybean meat balls, fermented cassava flour, and high quality cassava flour (HQCF). Also on display was a locally made groundnut sheller, which attracted a lot of interest from Minister Chaponda and others who visited the pavilion. The N2Africa Project is promoting the sheller for use by farmers, especially women.
Visitors to the IITA pavilion were also given various materials about the technologies and crop varieties that IITA is promoting in Malawi.