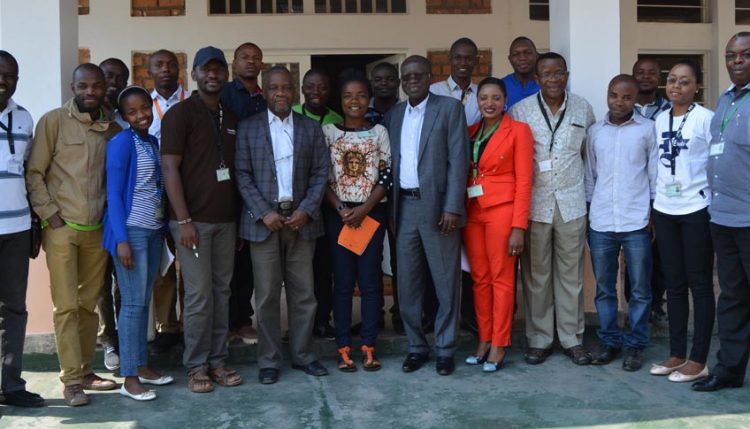 Visiting AfDB delegate commends Kalambo Youth Agripreneurs
As part of its preliminary activities towards the development of the Empowering Novel Agribusiness-Led Employment (ENABLE Youth) program for the Democratic Republic of Congo, Bakach Dikand Kadiata, IITA alumnus and African Development Bank (AfDB) Senior Agriculture and Natural Resources Management Officer, visited the IITA Kalambo Station to assess the activities of IITA Kalambo Youth Agripreneurs (IKYA).
Kadiata was accompanied to IITA Kalambo by Nzola Mahungu, IITA Country Representative, DR Congo on 29-31 August, and was received by Christopher Okafor, the Officer-in-Charge of the Station and Noel Mulinganya, IKYA Coordinator.
The assessment visit included presentations by IKYA, a processing facility tour, and field visits. The tour facilitated a better understanding of IKYA's potentials, performance, and current challenges. IKYA's presentation covered its ongoing entrepreneurial activities along four business lines; namely, commercial production of seeds and planting material of cassava, soybean, beans, and maize; processing of cassava, soybean, and maize; fish farming; and provision of agribusiness services.
Presenting the achievements of IKYA, Mulinganya highlighted accomplishments in processing maize flour and high quality cassava flour, establishing and running a bubbling marketing outlet in Bukavu, youth networking, and partnerships with private sector entities and development organizations, among others.
Excited and impressed by what he saw and heard, Kadiata commended IKYA and encouraged them to keep up the good work and continue to serve as role models for the youth in the region.
He also urged the Agripreneurs to finalize their respective business plans to maximize their chances of benefiting from credits that would be offered through the ENABLE Youth program.
At the end of the presentations and tour, Kadiata and Mahungu concluded that "IKYA presents a good platform for effective take-off of the ENABLE Youth program in DR Congo."