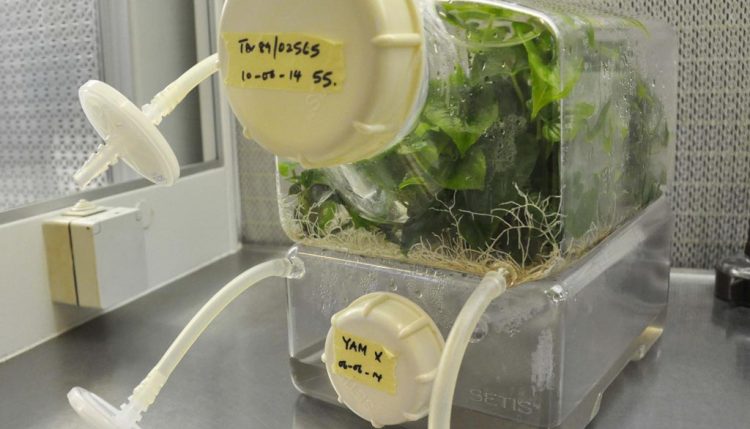 1
YIIFSWA to plant 80,000 vine cuttings for seed yam production at IITA and more…
The YIIFSWA project will be winding up in a couple of months; the project has intensified high quality seed yam production efforts. In October the project will start planting 80,000 yam rooted vine cuttings on 2 ha of land at IITA-Ibadan. During an interview on current activities, Norbert Maroya YIIFSWA Project Leader, gave reasons for intensifying seed yam production using vine cuttings.
He said, "We recently got approval from the Gates Foundation for our concept note to develop a full proposal for a new phase of our project. A full proposal was submitted on 1 August 2016. As a result, key project team members were invited to a convening at Seattle, USA, to meet with The Foundation to review and agree on the components of YIIFSWA-II. The Foundation has indicated their interest in funding YIIFSWA-II and is highly interested in the promotion of the aeroponics system (AS) for basic seed production of improved varieties by private seed companies. In addition, for the sustainability of high quality seed production, The Foundation also specified that national agricultural research institutes (NARIs) in Nigeria and Ghana should be equipped with Temporary Immersion Bioreactor Systems (TIBS) and their capacity strengthened for pre-basic seed yam production.
In the beginning of the initial year of the second phase we plan to have at least 500 demonstrations using seed tubers generated from AS vine cuttings. Currently we are cutting one-node vines of improved varieties in AS for rooting of potted plants in nurseries before transplanting to the field after 3 to 4 weeks. We plan to produce 80,000 seed yam tubers to generate enough planting materials to set up the demonstrations of seed to ware yam production next year. These demonstrations are to be carried out on-farm by private seed companies as part of their marketing strategy to showcase the potential yield of high quality seed tubers of improved varieties. It is very important that seed producers and ware yam farmers appreciate the performance of high quality planting materials.
Only then will farmers be willing to purchase high quality seed tubers and seed producers to invest in establishing AS for basic seed yam production.
The first conditional "stop/go" the foundation has given YIIFSWA-II is that by the end of the first implementation year, IITA would have converted existing research facilities (TIBS & AS) into model operations at full scale for pre-basic seed using TIBS technology, and basic seed using AS for commercial seed operation, and is actively tracking cost and activities for each. The purpose of these two scale-up activities is to validate actual achievable multiplication rates and costs at these two critical stages of pre-basic and basic seed yam production, and will be used to demonstrate for private sector seed companies the opportunity available for them.
Also by end of the preliminary year, IITA would have signed MOUs with 3–10 well-resourced, established private seed companies committing to invest in AS technology and screen houses, and allocated land with a combined capacity of at least 30 ha basic seed yams annually.
Next month, YIIFSWA plans to train the technical officers of private seed companies at the National Root Crops Research Institute (NRCRI), Umudike, where YIIFSWA-I has established a functional AS. Right now NRCRI has transplanted over 30,000 potted plants in the field generated from AS.