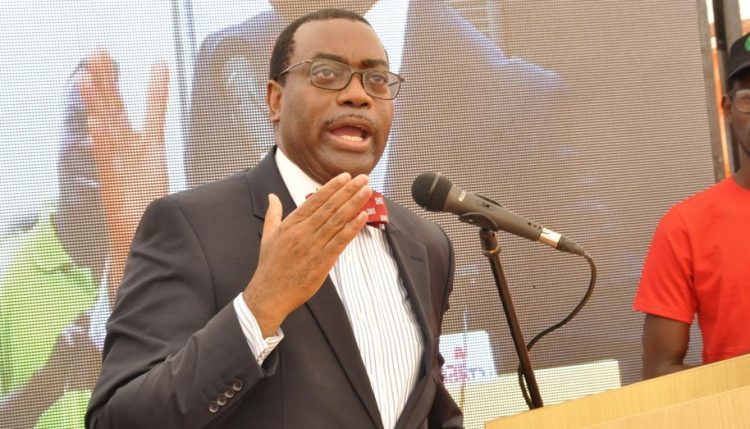 Africa's future is bright because of IYA – Adesina
Adesina expressed optimism that Africa will indeed soon begin to feed itself because of creative entrepreneurs like the IYA. According to him, the drive with which the youth are fashioning business ideas from the sector makes him see a new Africa. The President recognized the visionary leadership of DG Sanginga and noted that the progress of the IYA and IITA is a result of the DG's pragmatic style of leadership.
"I am delighted to see the IYA and every time I see you I get a new drive, vibe, and energy and it assures me that the future is bright for Nigeria and Africa because of you. Listening to IYA has convinced me that Africa has truly embraced agriculture as a business and you (IYA) are the icons of agribusiness today and will be the millionaires and billionaires from agriculture tomorrow. I am very encouraged, because I see a better future, a new kind of Africa, a new kind of youth coming up that are going to take Africa out of the misery of being unable to feed itself. I see a new dynamism that will allow Africa to develop with pride."
Adesina bemoaned the dependence of Africa on imported food, spending US$35 billion yearly on food importation.
"What this means is that we are making others richer and impoverishing ourselves, exporting jobs elsewhere, our rural areas are becoming decimated, making billionaires elsewhere and creating poverty back at home."
He called on a concerted and collective will to rise up to the challenge and put to best use Africa's greatest potential.
"The biggest business in the world is the food business and agriculture is the biggest potential that Africa has but we have to change our mindset about agriculture from being a way of life to a business. If we do nothing, Africa's food import will rise from today's US$35 billion to US$110 billion by 2025.
The President identified access to finance as the greatest hurdle that African youth face in their quest to grow their businesses and assured the support of the AfDB to ensure that young people experience a smooth business sail.
"To support Nigerian youth, the Bank has launched ENABLE Youth and is delighted to implement the project with IITA and the Federal Ministry of Agriculture in Nigeria. The focus is to directly support 37,000 businesses and each one having 35 people
under them can create about 180,000 jobs…this will greatly reduce unemployment prevalent in Nigeria today. The Bank will also provide finance for youth beneficiaries to run their businesses, set up a business incubation support and access to finance for young people, and enable financial institutions so that young people can access the funds that they need to grow their businesses."
The President charged African youth to arise and be counted at this auspicious moment when the Bank is trying to help "Africa feed itself". He expressed hope that by the next time he visits Nigeria he will walk into the businesses of the Agripreneurs and see that the ideas that were incubated at IITA are helping the continent.