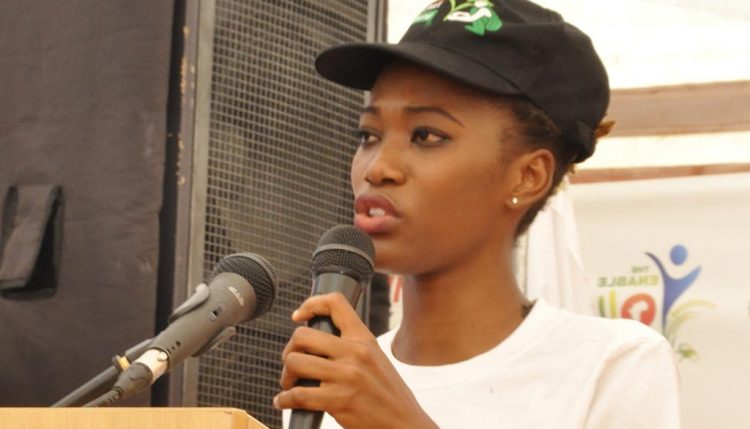 The story from the perspective of the IITA Youth Agripreneurs
All over developing nations, stories continue to spring up almost on a daily basis relating to how and why the majority of their energetic youth remain unemployed and without sustainable sources of income. But that is not the case for the members of the IITA Youth Agripreneurs (IYA) who have been "saved", reoriented, mentored, and soon to be financially empowered to start off their own chains of independent businesses in agriculture. The initiative is currently being implemented in five locations in Nigeria (Ibadan, Abuja, Onne, Borno, and Kano) and has gained the approval of governments in 30 other African countries.
At the event, some of the youth shared their experiences and reiterated their drive to be the future billionaires that will be created from the business of growing food and livestock. They also advocated for more youth to be given the opportunity to share in the dream so that agriculture will cease to be operated as "business as usual".
From a server to a leader; agriculture made me achieve that
According to Oyindamola Asaaju, female Agripreneur, she may never have escaped menial employment if Adesina had not charged youth in Ibadan to create a business niche in agriculture.
"As a server waiting on tables, serving drinks and food, and cleaning tables in 2013, I was struck and saved by Adesina's motivational speech to staff when he visited Ibadan in 2014. That speech changed my life and led to the establishment of the IYA scheme.
As an Agripreneur, I have honed my skills and today lead a team producing cassava, rice, plantain, and catfish in Rivers State, Nigeria. Yesterday I was a server; today I lead a team of young entrepreneurs. I do not think there is a better way of describing the transformation. The only difference between me and other youth in similar cases is opportunity and I believe that with your (Adesina) unwavering support you can make their dreams come alive."
I hated agriculture but today it has empowered me
An Agripreneur producing catfish, said that even though he never envisaged that he would earn his  living from agriculture he has absolutely no regrets being a fish farmer today.
"I have experienced unemployment, seeing master's degree holders working as casual laborers for a measley N460 per day wage. That experience challenged me to join IYA where with my team we have transformed four erstwhile abandoned fish ponds to 17 massive ponds with a capacity of 150 tons of catfish. Who would have thought that I, who didn't like agriculture, am now a project leader, capacity builder, and entrepreneur in the sector? Through IYA I have been able to recognize an opportunity through fish farming to create wealth for myself and also employ others.
IYA revived the businessman and leader in me
"The IYA built the entrepreneurial spirit in me, leading me to identify a goldmine in the tomato value chain. With the training I have received I can confidently grow this business and also employ other young people, said Festus Okunlola.
Advocating for the President to fast track the implementation of the ENABLE Youth activity in Nigeria, Okunlola said "If the ENABLE Youth project had been signed in Nigeria, people like me would have been employers of labor by now."
Women can be good entrepreneurs if they are properly mobilized
From Borno was a beneficiary of the capacity building and training program of IYA about two years ago in Borno State, Nigeria. Wakawa shared how her experience has helped her grow the business of her dreams.
"As a graduate of Food Technology, I am happy that I have been able to use the knowledge I acquired from the youth-in agribusiness scheme of IITA to establish an oil cottage industry of my dream where I process groundnut and soybean oil. For me, this shows that women too can make money from agriculture if properly mobilized."
IYA will champion AfDB's cause of Africa feeding Africa
Zaccheus Izuwa spoke for the Agripreneurs from the five operating sites in the country who attended the event. He hailed Adesina as a champion of the cause of eradicating food insecurity, hunger, and poverty in Africa and reiterated the preparedness of IYA to commence independent agribusinesses.
"IYA has put on their caps of passion for agribusiness, fully kitted with experience and training across the agricultural value chains to embrace the challenge of food insecurity in Africa. We will fight and win the victory as champions that we are. We are missionaries of agribusiness preaching the gospel that farming is cool after all.
We are not afraid; neither are we confused because we are a testament that with proper training, such as we have received from IITA, youth without prior exposure  to agriculture can be gainfully engaged in the sector."