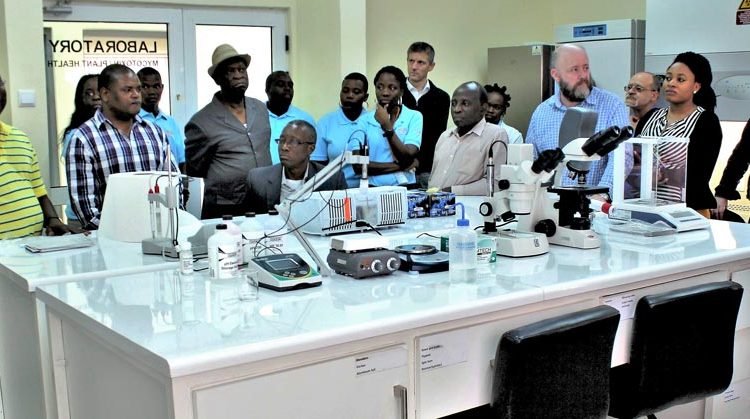 Mozambique hosts IITA top brass for meeting, visit of new facilities
Members of the IITA R4D/P4D Directorate were at the new IITA-Mozambique office in Nampula for a three-day meeting and station visit, which was held 18–21 September. The delegation was led by Ylva Hillbur, DDG-R4D, and Kenton Dashiell, DDG-P4D, and comprised the regional directors, unit heads, and other members of the R4D directorate.
At the IITA-Mozambique station, the delegation was given a tour of the new facilities by Steve Boahen, Country Representative for Mozambique and Deputy Regional Director for Southern Africa. He also presented to the group plans for future expansion of the station. Among other things, the group was shown the new Mycotoxin Laboratory where numerous activities on aflatoxin control are being undertaken and the new Seed Storage Facility that will be equipped with refrigeration and humidity control systems.
Furthermore, IITA Nampula staff had the opportunity to participate in a short workshop on Project Proposal Development facilitated by Kristina Roing de Nowina, Head of the newly created Project Development and Administration Unit.
The R4D/P4D directorate meeting coincided with a visit to the station by the Director of Finance, Omoshalewa Sholola. He was in Nampula to discuss the Refreshed IITA Organizational Structure with staff and also for a monitoring and control visit. He emphasized the essence of the new organizational structure to make IITA operate efficiently, enhance decentralization, and strengthen the hubs. It was also an opportunity for Sholola to familiarize himself with the financial and administrative operating procedures at the station and suggest ways to further enhance the related operations in the station.