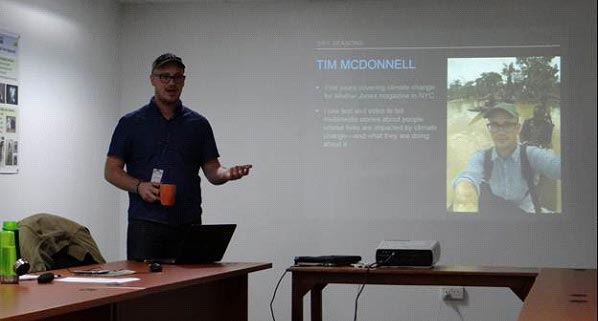 Fulbright/NATGEO Fellow visits IITA−icipe
Tim McDonnell, a journalist on a Fulbright and National Geographic Fellowship, visited IITA's Central Africa Hub coordination office at icipe in Nairobi. Tim is an environment and science reporter for Mother Jones magazine, a US national affairs magazine in New York whose reporting focuses primarily on climate change. He is currently a research fellow with the Fulbright Program, and his project proposal is about how climate change is complicating the problem of food insecurity. Tim will be undertaking his research in Nigeria, Kenya, and Uganda and the stories produced will be primarily featured on the National Geographic website.
He will be working with IITA in Uganda and also in Nigeria, where he will be based for three months in 2017.
Tim made a presentation to IITA staff on his project. He informed the team that his main aim was to bring together science outputs from different research institutes including IITA and deliver the outputs to the audience while putting a human face to the stories. He said that the main reason for his visit to IITA was to interact and learn more about IITA's work on climate change. After his presentation, IITA scientists and staff involved in the various projects were able to give feedback and suggestions of sites he could visit. One of the proposed sites was Kibwezi where the IITA Kenya Youth Agripreneurs are based. The area is affected by drought and it would be interesting to see how the Agripreneurs have been able to overcome this challenge. Tim was also encouraged to visit farmer cooperatives in Bungoma that had been surveyed under the IITA-COSA project. The IITA team further noted that Tim's choice of countries would give a good contrast or comparison since in West Africa rainfall quantities were a challenge while in East Africa timing of rainfall was the challenge.