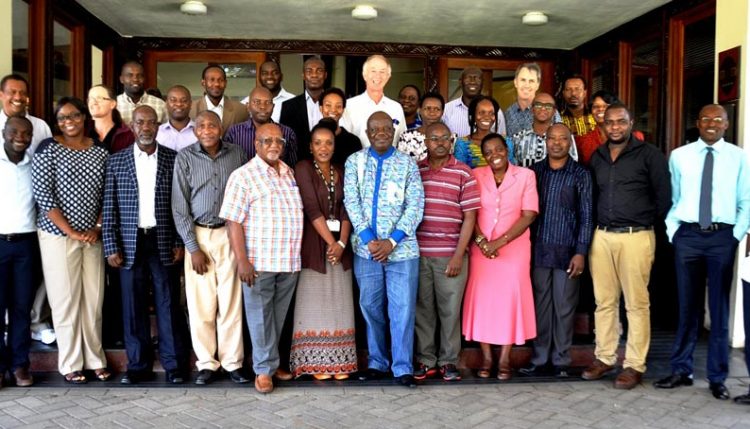 IITA holds first-ever science day in Tanzania
IITA scientists and senior support and administration staff working in Tanzania gathered in Dar es Salaam, Tanzania, for a "Science Day" event and listened to over 30 presentations from each other on the ongoing research efforts and activities in the country. The science day was held on 29–30 September.
"The event was very successful. We had all the scientists, senior staff, and PhD students based in Tanzania sharing on their work, their approaches, progress, impact so far, and future plans. Through these presentations, everyone was able to get a clear picture of what everyone else was doing and an overview of the breadth and range of activities we are carrying out in the country," said Victor Manyong, IITA Director for Eastern Africa who led in organizing the event.
The presentations focused on the IITA research areas of the Institute such as crop improvement of cassava and banana—important key staples in the country; control of major diseases such as the cassava mosaic disease and cassava brown streak disease ravaging the crop; and value addition through improved processing technologies.
Newer research areas in the country were also presented such as sustainable intensification of farming systems led by the flagship project Africa Research in Sustainable Intensification for the Next Generation (Africa RISING); food nutrition and security including efforts to roll out Aflasafe in Tanzania to control aflatoxin contamination; and social science research looking into gender issues and impact studies to track the Institute's progress on poverty reduction in line with its refreshed strategy to move 11.5 million people out of poverty in sub-Saharan Africa.
The seven PhD students currently based in Tanzania presented on their research. These ranged from efforts to tackle soybean rust, to understanding the impact of climate change on the cassava virus diseases pandemic and how the different cassava varieties interact with the cassava brown streak viruses to analyzing the economic efficiency of different cassava processing methods and understand what motivates farmers to adopt new innovations.
Staff from R4D support such as Monitoring and Evaluation, Communication, Administration, and Facilities Maintenance were not left behind as well as the Youth Agripreneurs. They too presented on their activities.
This is the first ever such event for the Institute. The tradition has been to either to organize hub retreats for all the scientists in the various locations of the hub or to gather all IITA scientists at the Headquarters in Ibadan, Nigeria for a one-week event dubbed Research for Development (R4D) week during which scientists and senior staff from all IITA hubs and project country projects get to know each other and their research and activities.
However, this year, R4D week has been replaced by a Partnerships for Delivery Week to focus on IITA's efforts to scale out and commercialize its technologies through partnering with the private sector. The Science Days which will be held in the various countries where IITA works will create a forum where the scientists can learn about the ongoing work. The additional benefit of such a location-based science day is to inform staff about the overall IITA activities in that country.