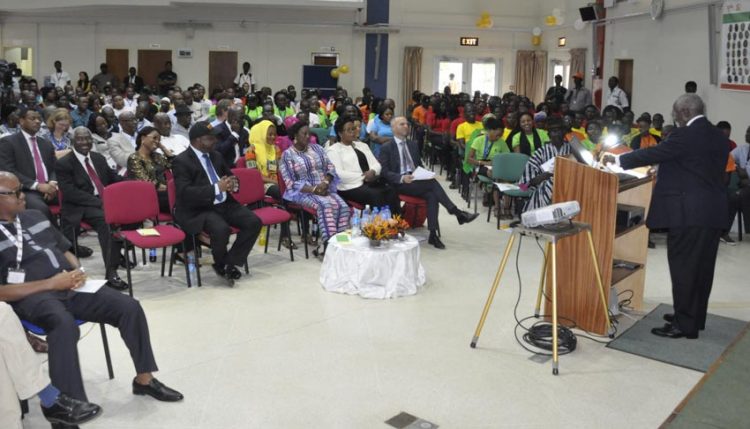 IITA kicks off 50th anniversary celebration in Ibadan with IFAD president as guest of honor
IITA commenced its golden jubilee celebration, with a launching event at the headquarters in Ibadan, on Wednesday, 19 October. The launch event featured the president of the International Fund for Agricultural Development (IFAD), Dr Kanayo F. Nwanze, as the guest of honor.
Dr Nwanze talked about the rejuvenation of Africa through IITA's interventions, and the impact of youth engagement in agriculture.
Welcoming the guests to the gathering, Dr Kwesi Atta-Krah, chair of the organizing committee of the 50th anniversary celebration, remarked: "Today we initiate celebration of our institute. However, an institution is nothing without its people. So today, we celebrate the people of IITA. This celebration is about you, us, and everybody who has been contributing to IITA and what it is today."
In his remarks, the IITA Director General, Dr Nteranya Sanginga, expressed delight for IITA's 50 years of achievement. He used the opportunity to seek a continuous partnership with IFAD to continue nourishing Africa. "I welcome you all–the IFAD president and other distinguished guests to IITA. Thank you, all, for making out time to share in our joy. I want to use this medium to offer to the IFAD president, the readiness of IITA, to be used as a 'tool' in his plan to create a foundation for youths in agribusiness".
During his keynote address, President Nwanze said: "It is with great pleasure and gratitude to be here, and an honor to initiate the 50th anniversary celebration of IITA. IITA holds a special place in my heart. There is much for IITA to be proud of over the past 50 years; it is an institution that has helped rebuild the resilience of millions of smallholders in Africa. Its work has resulted in less women, men, and children going to bed hungry every night…It is an institute of incubation for the youths who have a bright future in agriculture."
He urged the youths to seize the opportunities in agriculture and to never hesitate in exploring the different and ever growing avenues in the agricultural sector, and accepted Sanginga's request of collaboration and partnership. "Development must begin in Africa, by Africans, and for Africans, because it is an intrinsic process. We must invest in development, and this is where IITA comes in; this is where the IITA-IFAD partnership is very crucial, because we will invest and work as partners", he stated.
"When I retire, I will devote my energies to working with young people—motivate, mentor, and support them…I accept the offer to use IITA as the tool with which to further the cause of the movement… I will serve your desires upon my retirement in April (2017)," Nwanze said.
The launch event was attended by partners that included several commissioners of state, local government officials, University Vice Chancellors, and other distinguished guests. The program included an exciting Youth Agripreneur debate, which featured representatives of different chapters of the IITA Youth Agripreneurs, on various agriculture-related topics.
At the end of the program, the IITA youth group presented several gifts to the IFAD President for his support to the youth movement from inception. Among the gifts were a specially designed Agripreneur lapel pins, a plaque, paintings, a photo album, and a banner proclaiming: "Dr Kanayo Nwanze: the father of the future billionaires of Africa".
Dr Nwanze told the youths that he was touched by their ingenuity, genuineness, and confidence: "I can't say thank you enough. I should be the one thanking you—you gave me the opportunity to plant the seed 4 years ago that started this youth movement. You honor me with that seed."
And to DG Sanginga, he said: "Thank you for watering and fertilizing the seed, and encouraging our young people. You have transformed this institution."