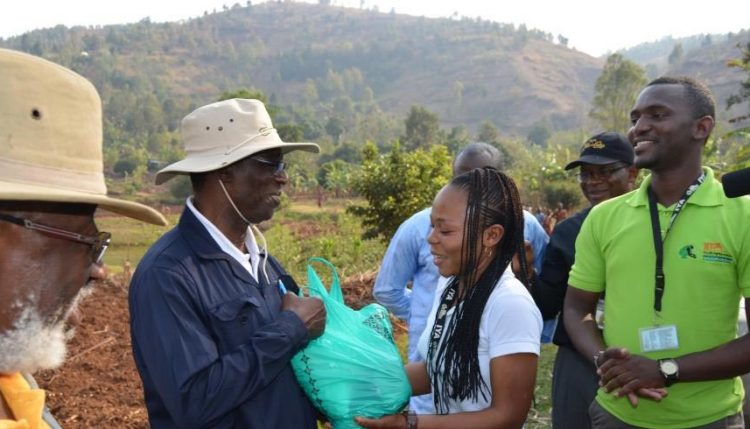 IITA receives special commendation
During a working visit to IITA Kalambo Station, Adolphe Mulumba, the General Secretary (equivalent to Permanent Secretary) of the National Ministry of Agriculture, Fisheries and Livestock of the DR Congo, lauded IITA for its initiatives towards reducing poverty, hunger, and malnutrition and noted that they are in line with government's development programs.
Mulumba who was accompanied by the South Kivu Provincial Governor, His Excellency Marcelin Chishambo Ruhoya, was taken on a tour of the research and agroprocessing facilities in the Station by Chris Okafor, the Officer-in-Charge of the Kalambo station. At the Soil Microbiology Laboratory, Mulumba was so impressed by the state-of-the art equipment in the laboratory that he invited IITA to explore the possibility of developing a soil and land-use map of some provinces in DR Congo. He said that better soil and land-use maps are needed to guide interventions and development.
He spent ample time with the IITA Youth Agripreneurs (IKYA) as he went through their agroprocessing enterprises covering high quality cassava flour processing, soy milk production, and development of food products. The visitors were visibly excited to see "Made in Bukavu" cassava products, professionally packaged for dispatch to supermarkets in Bukavu.
Mulumba showed special interest in IKYA's fish farming enterprise. He visited IKYA's fish ponds located 18 kilometers from the Station. He praised the initiative and advised IKYA against the importation of fingerlings which he attributed to be the source of fish diseases in southern Africa. He encouraged the youth to explore local production of fish feed and livestock integration.
To conclude his visit, he expressed his appreciation to the Governor for his support to IITA, and to the Director General of IITA, management, and staff he gave his warmest thanks. "IKYA is a role model for youth in the country", he concluded.